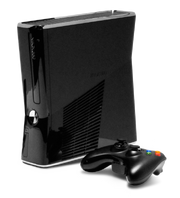 The Xbox 360, shorted to X360 or 360 is a seventh generation video game console, the second video game console produced by Microsoft, and the successor to the Xbox.
It was officially announced on MTV in May 12, 2005, with detailed launch and game information divulged later that month at the Electronic Entertainment Expo. Released on November 22, 2005, it is the first console to provide a near-simultaneous launch across the three major regions, and to provide wireless controller support at its launch. It competes with Sony's PlayStation 3 and Nintendo's Wii.
Its Xbox Live service allows players to compete online and download content such as games, trailers, TV shows, music videos, or rented movies.
Dead or Alive titles available on Xbox Live

[

]
Related Titles
[
]
Also See
[
]
External Links
[
]