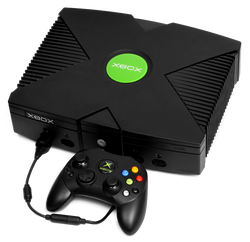 The Xbox is a sixth-generation video game console manufactured by Microsoft. First released in 2001, it was Microsoft's first foray into the gaming console market, and it competed with Sony's PlayStation 2, Sega's Dreamcast, and Nintendo's GameCube. The integrated Xbox Live service allowed players to play games online.
Following the release of its successor, the Xbox 360, in 2005, the Xbox was discontinued in late 2006. Support for out-of-warranty Xbox consoles was discontinued on March 2, 2009; and its Xbox Live support was discontinued on April 15, 2010.
Related Titles
[
]
Limited Editions
[
]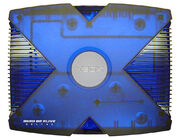 On March 25, 2004, for the release of Dead or Alive Ultimate, a limited edition Xbox was released in Japan, known as the Kasumi-chan Blue Xbox.
The console was a standard Xbox console system with a translucent blue case (based on Kasumi's iconic blue costume), and the "Dead or Alive Ultimate" logo printed in white in the lower left corner on the top of the case. The console also came with a matching controller, an Xbox DVD Kit, an Xbox Live Starter Kit with a free one-year membership, a copy of Dead or Alive Ultimate, a copy of Digital Venus, and a 5" body pillow case with a image of Kasumi.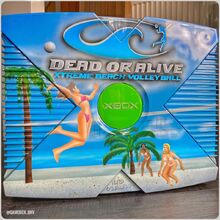 Only 5,000 units were produced, with a original retail price of ¥22,800 ($215). It is now considered a collector's item.
In Germany 20 DOA Xboxes were sold.
Xbox Easter Eggs
[
]
An item known as the "Xbox Prototype" can be seen in a couple of Dead or Alive and Ninja Gaiden titles. The item is a Xbox console in a X-shape, so it a "X-Box" in every sense of the word. The Kasumi-chan Xbox can also be seen in Dead or Alive Xtreme 2 for the Xbox 360. In addition, the Silver Xbox is also an obtainable item in the Survival Mode of Dead or Alive 3, Dead or Alive 2 Ultimate, and Dead or Alive 4 under all characters.
The commands in Dead or Alive 3 were colored to match the controller's face buttons:

,

and

becoming
,

and

. This has remained consistent for the rest of the series, even on other platforms.
See also
[
]
External links
[
]