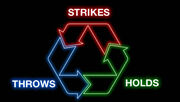 Fighting in the Dead or Alive series is all based on the Triangle System. The idea behind the Triangle System is similar to the game Rock-Paper-Scissors: there are three basic moves, and each move can either defeat another move, or be defeated by another.
While it is possible to play Dead or Alive without using the Triangle System, due to the way gameplay is set up, this system tends to be the best to use.

There are three ways to deal damage to your opponent in Dead or Alive: striking, throwing and defensive holding. These three types of moves make up the backbone of the Triangle System. The simplest analogy is to think of a game of Rock-Paper-Scissors - striking beats throwing, throwing beats holds, and holds beat striking.
When you land an attack of one type that beats another type, like landing a strike when an opponent tries to throw, that attack becomes a Hi Counter attack and does up to 50% more damage. However, as with all fighting games, good timing is what makes the Triangle system work. A poorly timed Strike will not always beat a throw, and so on.
Community content is available under
CC-BY-SA
unless otherwise noted.