We have to grow stronger...

This article/section is in need of improvement. If you have a good knowledge of the subject, feel free to add your information to the article. Once improvements have been made, this notice may be removed.
Like what you see?

This article/section is in need of a few images. Perhaps you can help by uploading or finding and adding a good picture or two.
Things are shaping up nicely...

This article/section is currently under construction. The information on this page should not be considered as accurate or complete. Please remove this tag if this page hasn't been edited recently.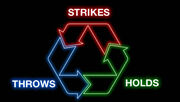 Fighting in the Dead or Alive series is all based on the triangle system. The idea behind the triangle system is similar to the game rock-paper-scissors: there are three basic moves, and each move can either defeat another move, or be defeated by another. These three basic moves are strikes (aka blows), throws, and holds.
Overview
[
]
There are three ways to deal damage to your opponent in Dead or Alive: striking, throwing and defensive holding. These three types of moves make up the backbone of the triangle system. The simplest analogy is to think of a game of rock-paper-scissors - striking beats throwing, throwing beats holds, and holds beat striking.
When you land an attack of one type that beats another type, e.g. landing a strike when an opponent tries to throw, that attack becomes a Hi Counter attack and does up to 50% more damage. However, as with all fighting games, good timing is what makes the triangle system work. A poorly timed strike will not always beat a throw, and so on.
In Dead or Alive 5 and Dead or Alive 6, characters are provided with stats that rate their strengths in these three areas, amongst others. This helps players to understand the characters' strengths and weaknesses, and be mindful of what to look out for when facing certain opponents.