We have to grow stronger...

This article/section is in need of improvement. If you have a good knowledge of the subject, feel free to add your information to the article. Once improvements have been made, this notice may be removed.
Like what you see?

This article/section is in need of a few images. Perhaps you can help by uploading or finding and adding a good picture or two.
Things are shaping up nicely...

This article/section is currently under construction. The information on this page should not be considered as accurate or complete. Please remove this tag if this page hasn't been edited recently.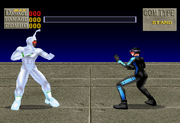 Training Mode, also known as Sparring Mode, is a gameplay mode found in all Dead or Alive games.
Gameplay
[
]
Free Training
[
]
In this mode the player "trains" and develops their fighting skills against a placid opponent that can be programmed to either stand still, block, counter or attack at varying degrees of difficulty. The Training Mode has no time limit, nor can any characters be "Knocked Out". The primary function of this mode is for the player to learn and practice each character's moves to be implemented in other modes such as the Survival Mode or Story Mode.
Command Training
[
]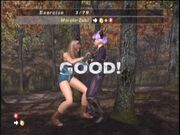 Introduced in Dead or Alive 3, "Exercise", also known as "Command Training", displays onscreen the moves in the selected character's Command List for the player to practice. Some moves, like those that must be performed next to a wall, may be excluded from Command Training. One command is displayed at a time and once completed, the next one is automatically displayed. Once the player completes all commands for a character, the player will be congratulated and in most games, rewarded with a new System Voice.
Tutorial
[
]
In the original Dead or Alive 5, the Story Mode also acts as a tutorial. In Dead or Alive 5+, the tutorial is expanded and turned into its own mode, separate from the story.
Combo Challenge
[
]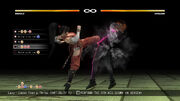 See: Combo challenges
Introduced in Dead or Alive 5+, the Combo Challenge is similar to the Exercise mode. The player must successfully carry out the listed moves on their opponent. Each character has 20 challenges of varying difficulty, starting with basic moves and moving up to the Power Blow, Critical Burst combos, juggling with the Power Launcher (starting in Dead or Alive 5 Ultimate), combos against featherweight characters, and ending with a tag combo. Combo challenges serve a dual purpose of both challenging the player (as some of the combos are extremely difficult to execute), and providing hints on how to use the character, e.g. revealing properties of moves that may not at first be apparent.
Training Mode themes
[
]
Trivia
[
]
The name of the training dummy in the Sega Saturn version is "Toreko", as stated in the official guidebook for the game.

In the West, it was believed for many years that the training dummy was Ayane due to her having the dummy's bodysuit as a recurring costume in later games, starting off in the PlayStation remake.
[

]