Team Fight Mode, also known as Team Battle Mode, is a gameplay mode found in all Dead or Alive games but Dead or Alive: Dimensions and Dead or Alive 5. It returned in Dead or Alive 5 Ultimate.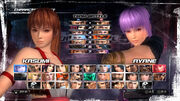 In a similar way to how the player usually fights their way through multiple opponents in singular matches, in this mode the player chooses a small group of characters to fight another group of opponents in a continuous elimination match (Character 2 enters when Character 1 is defeated, etc). Unlike Team Battle modes in other fighting games, the next opponent jumps in immediately without any pause for loading screens.
This mode can pit Players versus Players or Player versus Computer, with the number of characters per team ranging from one to five in Dead or Alive 2 and Dead or Alive 3. While in Dead or Alive Ultimate, Dead or Alive 4 and Dead or Alive 5 Ultimate, the teams can extend to seven characters. The teams may be uneven and do not have to have the same amount of characters.
Once one team's character roster is eliminated, the opposing player wins the match.
Community content is available under
CC-BY-SA
unless otherwise noted.