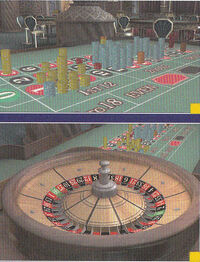 Roulette is a casino game that appears in Dead or Alive Xtreme Beach Volleyball, Dead or Alive Xtreme 2, Dead or Alive Paradise, and Dead or Alive Xtreme 3.
It is named after a French diminutive for "little wheel". In the game, players may choose to place bets on either a number, a range of numbers, the colors red or black, or whether the number is odd or even. To determine the winning number and color, a staff member spins the roulette wheel in one direction, then drops a ball in the opposite direction inside the wheel. The ball rolls around a tilted track running along the circumference of the wheel. The ball and wheel eventually lose momentum and the ball falls into one of the pockets on the wheel. Each pocket has a number and color. The winning bets are the ones that were relevant to the number and color of the pocket that the ball landed in.
The higher the odds are of not winning the bet, the greater the reward if it is won.
It reappeared in Dead or Alive Xtreme Venus Vacation as part of the January 29, 2020 update. Although it originally was exclusively played, it eventually was playable alongside Blackjack by May 2020.