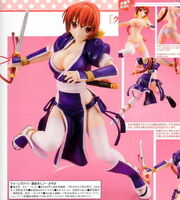 As with all of the characters that appear in the Queen's Gate visual combat books series, a 1/8 scale PVC figurine of Kasumi was produced by Hobby Japan and Kotobukiya. The figurine was released on November 19, 2010, and was sculptered by Kiyohara Hidemasa.
The Queen's Gate is a supplement to the Queen's Blade series, which features female-only casts in sexual art situations. The overall plot of the game revolves around a tournament held every four years to determine a queen; only young women who are considered beautiful in their home town are allowed to enter.
Unlike the other sub-series which feature original characters, Queen's Gate uses licensed characters from other game and anime series including Lili from Tekken, and Mai Shiranui from King of Fighters.

Description
[
]
The standing figurine is 180mm tall (7.02 in) on a white circular base, with the Queen's Gate across it in blue. Just standing on her left leg, Kasumi is posed as if she is about to strike someone with her sword, which is in her right hand. Her expression makes her look a little angry, as if focusing on a foe, and her hair is tied back into a braid with large yellow bows.
She is wearing her trademark blue dress from the Dead or Alive, but the dress can be removed to explose her white underwear with pink bow accessories.
Gallery
[
]
Also See
[
]
Sources
[
]