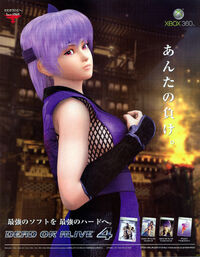 Project Progressive was the code name given to a canceled video game that was under-development by Team Ninja. It was originally planned for the original Xbox console, but its development moved to the Xbox 360 before it was scrapped.
It is not entirely known what game Project Progressive actually was, but it was advertised along with Dead or Alive Xtreme 2 and another cancelled game, Dead or Alive: Code Chronos, on a few of the Dead or Alive 4 promotional posters, back when Dead or Alive 4 first came out in December 2005.
It was first thought that Project Progressive was to be a Dead or Alive game - since it was advertised with other Dead or Alive titles, and hesitant analysis of the promotional image, which shows a silhouette of a long-haired girl, indicates that it might had something to do with Kasumi, Kasumi Alpha, or Alpha-152. However, it seemed it would have been a different game altogether, shown by the concept artwork that was released for the 10th anniversary of the Dead or Alive series, sometime in September 2006. The art shows four unnamed female warriors and location concepts, which look heavily inspired by traditional Asian fashion, architecture, and art styles, but with a modern twist.[1]
On November 5th, 2010, in a interview with Famitsu, the head of Team Ninja, Yousuke Hayashi stated that Project Progressive had made it to a "plot version", but the game had actually been dropped sometime after the 10th anniversary, and there are no plans to continue its development.[2][3]

Gallery
[
]
Sources
[
]