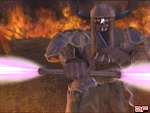 Project Omega is a project created by Victor Donovan after Project Epsilon and Project Alpha. The project aims to transform its voluntary test subject, the Mugen Tenshin Hajinmon master and foster-father of Ayane, Genra, into a superhuman known as Omega.
The project was a success and the third Dead or Alive tournament is held to test Omega's abilities. Ayane enters the competition as she feels it is her responsibility to stop Omega, which she ultimately does.
Etymology
Edit
"Omega" (Greek: Ωμέγα) is the 24th and last letter of the Greek alphabet, and in the system of Greek numerals, has a value of 800. Omega is represented by the symbol Ω in uppercase, and ω in lowercase.
The word literally means "great O" (ō mega, mega meaning 'great'), and, as the last letter of the Greek alphabet, is often used to denote the last, the end, or the ultimate limit of a set.
Omega follows the theme of being named after a letter in the Greek alphabet, which is shared with the other known DOATEC genetic experiments: Project Alpha and Project Epsilon.