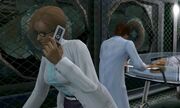 Project Epsilon is a scientific genetic-modification project that was introduced in Dead or Alive 2, created by the Dead or Alive Tournament Executive Committee. Created by Victor Donovan, the goal of the project was to create the "ultimate fighter." The project was overseen by DOATEC scientist, Lisa Hamilton.

History
[
]
During the events of the first Dead or Alive Tournament, DOATEC kidnapped a powerful shinobi, Hayate of the Mugen Tenshin Ninja Clan, who was in a coma after his spine was heavily damaged by Raidou during a Torn Sky Blast duel.
The purpose of the project was to develop a superior physical body with superhuman abilities, using Hayate's current strength, skills, and abilities as a starting point.
Apparently most of the modifications were made to Hayate's nervous system, and while his spine was repaired and he came out of his coma, he didn't show any improvement in abilities and power, and he lost his memories as a result of the experiments. The project failed and Hayate was released by Lisa.
After Epsilon failed, DOATEC then planned to clone the winner of the tournament and Hayate's younger sister, Kasumi, who was considered genetically superior to Hayate. This second attempt led onto Project Alpha.
However after the fifth tournament, Donovan had Project Epsilon reactivated when Hayate was recaptured by Rig. Hayate was confined inside the laboratory hidden within the rig and put to sleep at a basic cellular level. But the project seems to have failed once again when Kasumi rescued him and Lisa woke him up from his sleep. Despite this, however, the restraining brace from Hayate's time under Project Epsilon was still active, which forced him to let Rig get away when confronting him during the sixth tournament until Lisa temporarily deactivated the restraining brace.
Etymology
[
]
"Epsilon" (Greek: Έψιλον) is the fifth letter of the Greek alphabet, corresponding phonetically to a close-mid front unrounded vowel /e/. Epsilon is repersented by the symbol Ε in uppercase, and ε in lowercase. In the system of Greek numerals, Epsilon has a value of 5.
The name "epsilon" (ἒ ψιλόν, "simple e") was coined in the Middle Ages to distinguish the letter from the digraph αι, a former diphthong that had come to be pronounced the same as epsilon. The symbol ε is used in mathematics and science; mostly in theories and equations about change or lack of change in certain factors, which relates to the fact that Hayate didn't show any improvement during the experiment.
Epsilon follows the theme of being named after a letter in the Greek alphabet, which is shared with the other known DOATEC genetic experiments: Project Alpha and Project Omega.