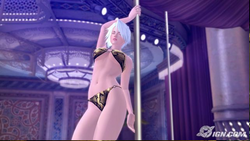 Pole Dancing is a performing art and a combination of dancing and gymnastics. It involves dancing sensually with a vertical pole and is often used in strip clubs and gentlemen's clubs. Pole dancing has been featured a couple of times in the Dead or Alive, being a major feature in Dead or Alive Xtreme 2 and Dead or Alive Paradise. The December 2015 issue of Famitsu implied that Pole Dancing will return in Dead or Alive Xtreme 3
Dead or Alive Appearances
[
]
Dead or Alive 4
[
]
During Christie's ending in Dead or Alive 4, she is seen posing as a pole dancer in order to get close to a target. In order to draw him in, she had to perform a pole dance and entice him to come closer, whereapon she inserted a needle into his neck.
Dead or Alive Xtreme 2
[
]
In the casino of New Zack Island, by betting the maximum amount and hitting the Jackpot when playing Christie's slot machine, the player unlocks sequences of Christie performing a pole dance in the casino.
After accumulating nine Jackpots, the player is gifted with a "Secret Ticket" the next night, allowing their chosen character to perform this dance. Any playable character can do this, in any of the swimsuit options.
Dead or Alive Paradise
[
]
In Dead or Alive Paradise, it is pretty much the same thing as in Dead or Alive Xtreme 2; this time the player dosen't have to hit 9 jackpots but one. Once this is done, the player can either "Watch" - which shows Christie performing her dance - or "Dance" - in which the player's chosen girl will be shown dancing, imitating Christie. This scene will be unlocked when the player has 99% of all Venus Clips for all girls.
Dead or Alive Xtreme 3

[

]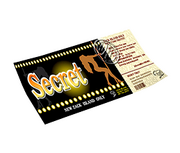 Poledancing returns in the game. As in the prior games, it requires a ticket, except it first must be unlocked after playing at the casino area. Then it may be purchased at the Owner Shop.
Dead or Alive Xtreme Venus Vacation

[

]
Although pole dancing itself has not appeared in the game yet, a leaked video emerged showing Tamaki doing a pole dance routine, implying that it will eventually be added in.
Video
[
]
Gallery
[
]
Dead or Alive Xtreme 2
[
]
Dead or Alive Paradise
[
]
Dead or Alive Xtreme 3
[
]
Trivia
[
]
The song My Grave is played during the pole dancing scenes in both Dead or Alive 4 and Dead or Alive Xtreme 2.
Why Pole Dancing was included in Xtreme 2 is unknown, as the game developers eliminated the wet T-shirt contests and trampoline games due to them coming across as vulgar and depicting the girls in a negative light.[1]
Notes and references
[
]