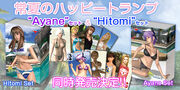 In addition to the many other types of merchandise for Dead or Alive, there are also packs of Playing Cards, featuring character images from Dead or Alive Xtreme 2. The cards are printed on plastic, and all together, a set is about 96mm in height, 65mm wide, and 220mm thick. Packs are made up of 52 cards, and also include special stickers. One pack can cost about ¥5,700 ($190).
There were at first two editons available: an "Ayane Set", and a "Hitomi set". The Ayane set comes with cards featuring Ayane on all the spade cards, Lisa Hamilton on diamond, Leifang on clubs, and Tina Armstrong on hearts. The Hitomi set has Hitomi on clubs, Christie on spades, Helena Douglas on diamond, and Tina on hearts.
Some time later, a third set known as the Kasumi Set was released and it featured cards of Kasumi on hearts and Kokoro on spades, which were both missing in the previous sets, but it repeats the same cards of Helena on diamonds and Leifang on clubs from the previous sets. For some reason it seems there was never an official advertisement banner for this set unlike the previous ones.
Gallery
[
]
Sources
[
]