Line 1:
Line 1:
 

[[File:PS2-Versions.png|250px|right]]

 

[[File:PS2-Versions.png|250px|right]]

−

The '''PlayStation 2''', abbreviated as '''PS2''', is a sixth-generation home video game console, Sony's second video game console, the successor to the [[PlayStation]], and the predecessor to the [[PlayStation 3]]. Its development was announced in 1999, and it was released in 2000. Its main competitors were the Sega [[Dreamcast]], Nintendo's [[GameCube]], and Microsoft's [[Xbox]].

+

The '''PlayStation 2''', abbreviated as '''PS2''', is a sixth-generation home video game console, Sony's second video game console, the successor to the [[PlayStation]], and the predecessor to the [[PlayStation 3]]. Its development was announced in 1999, and it was released in 2000. Its main competitors were the Sega [[Dreamcast]], Nintendo's GameCube, and Microsoft's [[Xbox]].

 
 
 

The PS2 has become the fastest selling gaming console in history, with over 100 million units shipped by November 2005, beating the previous record holder, the PlayStation, by three years and nine months.

 

The PS2 has become the fastest selling gaming console in history, with over 100 million units shipped by November 2005, beating the previous record holder, the PlayStation, by three years and nine months.

 

{{-}}

 

{{-}}

−

==''[[Dead or Alive (series)|Dead or Alive]] titles of PS2==

+

==''[[Dead or Alive (series)|Dead or Alive]] titles of PS2==

 

*''[[Dead or Alive 2]]'' - 2000

 

*''[[Dead or Alive 2]]'' - 2000

 
 
---
Revision as of 08:26, 23 September 2011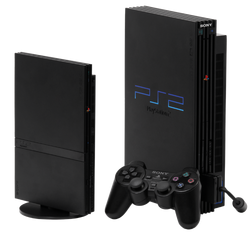 The PlayStation 2, abbreviated as PS2, is a sixth-generation home video game console, Sony's second video game console, the successor to the PlayStation, and the predecessor to the PlayStation 3. Its development was announced in 1999, and it was released in 2000. Its main competitors were the Sega Dreamcast, Nintendo's GameCube, and Microsoft's Xbox.
The PS2 has become the fastest selling gaming console in history, with over 100 million units shipped by November 2005, beating the previous record holder, the PlayStation, by three years and nine months.

Also see
External Links
Community content is available under
CC-BY-SA
unless otherwise noted.