Pictorial Scenes, known as Venus Clips in Dead or Alive Paradise, and commonly known to fans as Gravures, are "glamour videos" of the Dead or Alive girls during their relaxation sessions in the Dead or Alive Xtreme sub-series. These clips are viewable in-game if the player selects the "Relax" option before visiting a location on New Zack Island.
Those scenes also appeared on Dead or Alive 5 Plus as downloadable content under the name "extreme private gravure movie", either paid or bundled with the collector's edition version of the game, making it the first appearance of pictorial scenes outside of the Dead or Alive Xtreme sub-series. All the girl fighters have them except for Sarah Bryant, Pai Chan, and Alpha-152. In addition, gravure films for the characters Nyotengu, Marie Rose, Phase 4 and Honoka were also included as part of their Premier Sexy costumes for the Japanese versions of Dead or Alive 5 Last Round, acting as Day One DLC, and later released publicly as standard DLC on April 21, 2015 alongside the Premier Sexy set. Naotora Ii and Mai Shiranui were also exempt from having a private paradise film.
The name "gravure" comes from the term "Gravure Idol" - a young, Japanese woman who models for a range of media such as glossy men's magazines to idol movies, commonly associated with swimsuit modelling. They may also model in traditional Japanese costume, current fashions, and lingerie.
Use of Clips
[
]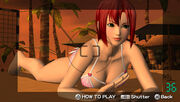 For the most part, these scenes are just to be viewed by the player for their own enjoyment. However, in Dead or Alive Paradise, Venus Clips must by collected to unlock certain mini-games and other parts of the game.
The videos whenever a girl "relaxes" in an open area of the game; if there is a character already in the area, you will not get an option for "Relax".
There are seventeen gravure scenes that you can do, as well as secret eighteenth one that all the girls get if they are staying in the Seabreeze Cottage and, on every even day, "Relax" in the Poolside area during the Evening session.
If a girl and her volleyball partner has a strong relationship, the player may get an option to "Be Friendly". These are videos of you and your partner together. There are no more than three "Be Friendly" videos per couple, and each video is area and time specific.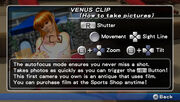 If the partner has already done a gravure in the area that you go to, you can perform an "Imitation" of your partner's gravure, meaning you will copy what your partner did. These do not include any "Sun Tan spreading" gravures, nor any martial art practices.
There are several "Unknown" areas that pop up every-so-often, marked as "???". These are special areas that provide a different take on a similar area. The three "Unknown" areas are "Area outside Radio Station", "Tree Trunk Near Brilliant Jungle," and "Boat Near Tranquil Beach". Leifang and Ayane have two of these "Unknown" areas, while others only have one. The timing on these places are purely random, but generally show up more often if you are "Relaxing" through the vacation.
In Dead or Alive Xtreme 3, they serve the same purpose. However, there is an additional place via the girl's bedroom. Also, due to the greater emphasis on trying to create a bond between the player and a certain girl, there are comparatively fewer scenes of the girls having any direct interaction with each other that aren't directly related to any minigames they were undergoing at the moment.
In Dead or Alive Xtreme Venus Vacation, the gravures are reduced even further, only having 10 gravures per girl. Although technically not gravures, the Sparkling Blue extra episodes were based on the poolside lounging gravures used in Xtreme Beach Volleyball and Xtreme 2/Paradise (sunbed version more specifically), and Tina's other Extra Episode that's unlocked after gaining her Queen of Burlesque SSR, "Private Show", is derived from one of Nyotengu's gravures (specifically, the one where she dances at an arm chair in the pole dance area).
Types of Clips
[
]
The actions performed by the girls during these times include lounging in the sun, strolling along the beach and splashing. They differ from place-to-place, and by the girl's different personalities. Some scenes may need to be unlocked as the game goes on. There are also some Venus Clips that can be performed by two girls if they have a strong friendship, are in the same location, and the player selects the "Be Friendly" option.
Solo Gravures
[
]
Laying on a lilo in the pool
Swimming and splashing in the pool
Taking photographs
Playing on an inflatable whale toy in the pool
Eating ice cream
Lounging poolside, either on the ground or in chairs and sunbeds
Performing exercise stretches and martial art practice
Applying sun lotion
Sunbathing at the beach
Strolling along and exploring the beaches or the jungle
Climbing trees
Playing on rope swings
Swimming under the sea at Bass Island
Rinsing off under an outdoor shower
Laying in a hammock
Relaxing on a sailing boat
Riding a bike
Rollerblading
Dance routines
Chair dancing (Xtreme 3 only)
"Be Friendly" Gravures
[
]
Running around and playing on the beach
Relaxing together
Climbing trees in the Jungle
Giving back massages
Taking photos of one another
Putting suntan on the partner
Private Paradise clips
[
]
In Dead or Alive 5 and its expansions, there are a series of movies called "Private Paradise" which serve a similar function to the pictorial scenes. However, there are a few differences: Namely, there's only one Private Paradise film for each of the characters (not counting the variations with the girl wearing a swimwear), there is no dialogue from any of the characters, there is no accompanying music (although dummied content in the code indicated that there was originally going to be music playing during this event), and there aren't more than one characters in the videos. These are exclusive to characters originating either in Dead or Alive itself or in Ninja Gaiden (with the exception of Alpha-152). They are about a minute long and loop upon being completed, with the player also proceeding to photograph the girls. Only the girls that appeared in Dead or Alive 5: Ultimate's initial roster had their own private paradise videos at the start, with Marie Rose, Phase 4, Nyotengu, and Honoka requiring a DLC set from Dead or Alive 5 Last Round to gain private paradise videos.
Below is a list of the videos and the details of what occurred in the video:
Kasumi: Walks over to the shoreline, proceeds to sit down, then lies on her back. She then rolls to the left, before getting up, and then dusting herself off.
Ayane: Knee-walks from the shoreline, then lies down onto her chest and then rolls over. She then gets up and proceeds to dust herself off.
Christie: Lying on her side at the coastline while looking at her hand, she then puts it down and then raises it up before putting it back down. She then briefly gets up to dust her legs and then lies down on her back, holding one up to block her eyes and having her other move around.
Tina Armstrong: Does squats and eventually does pushups before lying down on the sand.
Helena Douglas: Sitting on the beach while holding her head in thought. She then gets up, sprints to the waterline and pounces a wave before walking back. She then walks down the shoreline, briefly turning around before continuing down.
Leifang: Runs across to the shoreline, and runs across the water before returning to the shoreline. She then collapses, and sits down, dusting her leg off.
Hitomi: Proceeds to skip across the shoreline, jump around, and eventually, after dusting her legs off, collapses onto the sand before getting up and remaining in a sitting position.
Lisa Hamilton: Crosses her legs, and after watching Dolphins, proceeds to crawl. After crawling a certain distance, she then gets upright while her knees are still on the ground, and then sits back down.
Kokoro: Carefully crawling across the dunes, also gently rubbing the sand, she then gets up on her knees and looks toward the ocean. She then turns back to the cottage and puts her hand over her eyes, and then gets down slightly, touching the areas near her feet.
Mila: Lying down on the beach, she then turns around and lies her head on her crossed arms. Mila then lifts her leg, and then rolls over twice in the opposite direction and then slightly flails her legs. Mila then gets up onto her knees and crawls forward, then sits down.
Momiji: Walks along the shoreline, she then crouches and sits down. She then readjusts so she has her feet sideways, and strokes the dune. She then readjusts her sitting position, and after looking around, she then lies down on her back with her arms and legs spread out. She then rolls over to her side and then sits back up and stretches her arms while standing on her knees.
Rachel: Crawls toward the waves, she then turns her head to behind her. After a brief pause, she then returns back the way she came before lying down onto the sand. She then rears up and then rolls over. She then turns slightly and closes her eyes.
Marie Rose: Runs over to the seashore, she then staggers, making miniscule splashes before running back to the shore slightly, and then proceeds to smile giddily. She then bends over and places her hand over her eyes, watching the dolphins ahead of her. She then sits down, looks at her hand while watching a bird overhead, and then lies down with her arms spread out. She then crosses her arms and then closes her eyes.
Phase 4: Stretches her arms up and across as she walks across the shoreline, she then sits down and then gently lies down onto her stomach and strokes the sand before putting her head down. She then briefly gets up, and then holds herself up as she enjoys the wind blowing on her. She then repositions herself to lie on her side, and then places her arm near her head.
Nyotengu: Knee-walking on the sand with some difficulty, she then falls on all fours, before briefly getting up and stretching. She then leans back, and then turns around and repositions.
Honoka: Walking down the shoreline and briefly stretching, she then carefully sits down. Upon looking around, she then puts herself in a fetal position and smiles while turning her head. She then lies down, and then rolls over onto her stomach. Her legs then proceed to kick up and down one after the other while putting her head on her hands, and then lowering her hands and turning to smile.
Photo Paradise
[
]
In Dead or Alive Xtreme 3, there is a customization character posing photography terminology called "Photo Paradise" which serve a similar function to the pictorial scenes, but allowing the owners to take gravure pictures of the heroines in a variety of poses and swimsuits similar to Japan-only's Natsuroi High School game.[1]
Gravure Samples
[
]
| | |
| --- | --- |
| Ayane's gravure in Dead or Alive 5 plus | Leifang's gravure in Dead or Alive 5 plus |
| | |
Gallery
[
]
Dead or Alive Xtreme Beach Volleyball
[
]
Dead or Alive Xtreme 2
[
]
Dead or Alive Paradise
[
]
Dead or Alive Xtreme 3
[
]
Notes and references
[
]