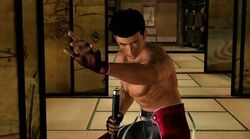 The Nunchaku is a traditional Japanese weapon consisting of two sticks connected by a short chain or rope.
The actual origin of the Nunchaku is a mystery. However, most origins point to it originating in the Japanese island of Okinawa during the 17th century, with some theories having it originating from a farmer's weed whacker, while others say it was originally a horse bridle, and others also say that it was originally a sound device to call attention to a speaker. The majority of these theories do say that the Nunchaku was evolved into a weapon as a means of self defense for the farmers due to a ban on all edged weaponry on the island.
In modern times possession of the weapon is banned in various countries due to its ability to inflict harm. This ban has crossed to television censorship where certain cartoon and videogame characters have been known to be re-edited or excluded due to possessing the weapon.
Gallery
[
]
Trivia
[
]
The Nunchaku is an obtainable, non-upgradable, secondary weapon for Ryu Hayabusa in Ninja Gaiden (Xbox).
The Nunchaku is a signature weapon of movie martial artist Bruce Lee, whom Jann Lee is based off of.
In Dead or Alive 4, Ryu Hayabusa and Jann Lee show off their skills with the weapon before carrying on with their match. In Dead or Alive 5, Jann attempts to extend the same opportunity to Kokoro but she doesn't catch the "chucks" when they are thrown and causes the destruction of an ornamental vase instead.
The Nunchaku is a purchasable item in Dead or Alive Xtreme Beach Volleyball.