We have to grow stronger...

This article/section is in need of improvement. If you have a good knowledge of the subject, feel free to add your information to the article. Once improvements have been made, this notice may be removed.
Like what you see?

This article/section is in need of a few images. Perhaps you can help by uploading or finding an image of Niki Marina.
Things are shaping up nicely...

This article/section is currently under construction. The information on this page should not be considered as accurate or complete. Please remove this tag if this page hasn't been edited recently.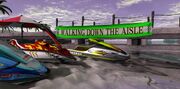 Niki Marina is one of the many locals of New Zack Island that appears is Dead or Alive Xtreme 2. Named after Zack's girlfriend, Niki, this is the only location that the girls can take part in marine races. The race tracks go around the area, which become longer and more complex each race, and go past and around rock fomations, sand banks, the Water Slide, the Zack of All Trades store, and the cottages of the Seabreeze hotel village. This location is avaliable during the morning, daytime, and evening sessions.
Trivia
[
]
TBA
[

]