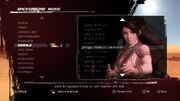 Music Mode (also known as BGM PLUS) is a mode originally introduced in Dead or Alive 5+. It allows players to choose background music for each character and gameplay mode.
Dead or Alive 5 games

[

]
In addition to 5's soundtrack, 5+ also included Dead or Alive 4 and new tracks for Mila and Rig. Dead or Alive 5 Ultimate added the soundtracks of Dead or Alive 2 and Dead or Alive 3. These are not included in the Core Fighters release and must be purchased separately. Dead or Alive 5 Last Round added the Saturn and PlayStation soundtracks of the original Dead or Alive.
Color Coding
[
]
Dead or Alive 6

[

]
In Dead or Alive 6 the Music mode is a part of DOA Central. Beside the main menu themes, all tracks are locked from the start, and may be unlocked by playing and leveling up characters, then purchased with in-game currency. Character themes from previous games are unlocked starting with Dead or Alive 5 and going back to the first game. Three additional tracks are included as DLC with the Digital Deluxe Edition of the game, with another twelve in the "Vacation to Paradise BGM" DLC. As of version 1.11, it is possible to change the music for each stage, but character music is prioritized unless they are set to "Use Stage BGM."
[

]