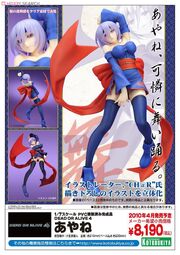 The Kotobukiya Ayane Figurine is a 215mm (8.39 in) figurine of Ayane, which was released by Kotobukiya on a standard run in April 2010. Designed by Ogasawara Kento, the figurine is made from PVC plastic and is fully painted. A second version of the figruine was released shortly after on a limited run. On advertisments, it says the figurine is related to Dead or Alive 4, although the figurine does not repersent Ayane as she appears in said game, and it was released about five years after the release of Dead or Alive 4.

Description
[
]
The 1/7 scale figure is of Ayane wearing her trademark purple "butterfly dress" outfit, which is a recurring costume for her to wear in the Dead or Alive games. The outfit consists of a sleeveless short dress, stockings, highheeled shoes, pull-on sleeves, and her trademark bandana. All of the outfit is purple, apart from a large red bow that is wrapped around her waist. The butterfly print on her skirt and the hemlines of her dress are also red.
Ayane is in a standing pose on one leg, looking as if she is falling or is flailing something away. Her left arm is up next to her head, and the right is crossed over her torso to rest near the hem of her skirt. The long excess piece of riddon from her bow are flying around her in the breeze.
With the limited version of the figurine, all of Ayane's purple articles of clothing (except her bandana) are printed white.
Gallery
[
]