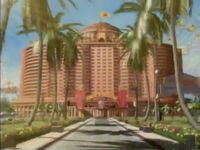 The Hotel is a multi-story building on Zack Island and New Zack Island from the Dead or Alive Xtreme spin-off series, where all of the resorts visitors reside during their stay. Each guest gets their own themed luxury room, complete with a king sized bed, dining table, television, balcony, storage closet and more.
The hotel also possesses the island's casino, where the girls can gamble Zack Dollars away long after the islands other attractions have closed for the night.
In Dead or Alive Xtreme 2, following Zack Island's resurrection and reconstruction in New Zack Island, the hotel is now divided into three singular hotels, or suites, located on alternate areas of the island.
In Dead or Alive Xtreme 3 and Dead or Alive Xtreme Venus Vacation, the player can visit the hotel room with their designated partner, and in the latter game it is even subject to various scenes in the Main, Character, Event, and Extra episodes. It is implied that all the girls as well as the Owner have the same room layout.
Dead or Alive Xtreme 2 suites
Gemstone Suite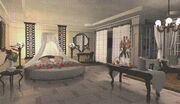 The Gemstone is a first-class hotel that boasts the largest rooms on New Zack Island which have a relaxed, laid-back environment. It is located on 25 Zack Avenue where the original Hotel used to be. All rooms have a basic white decor, a large mirror and a comfortable, spacious double-bed. The hotel also claims to have "top-notch" room service and "the world's finest teas". This hotel is favoured by Christie, Helena Douglas, and Lisa Hamilton.
Seabreeze Cottage
The Seabreeze Cottages are a small collection of water-top cottages built over the eastern part of New Zack Island's waterfront. The cottage village itself is part of some of the Marine Race courses on the island. Accessed via a pier on 473 Niki Beach Road along Niki Beach, each cottage has wooden decor, a wide open terrace that lets you dive straight into the ocean and a canopy-equipped bed. The cotteges are favoured by Hitomi, Kokoro and Tina Armstrong.
Moonlight Reef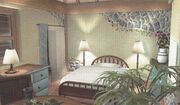 Small but comfortable, the Moonlight Reef rooms are located on the prominent segment of Bass Island along 79 Gold Street with all of the rooms overlooking the ocean. Each room has a blue interior scheme, an aquarium and large ceiling fans. The suites are preferred by Ayane, Kasumi and Leifang.
Gallery
Dead or Alive Xtreme Beach Volleyball
Trivia
In Dead or Alive 4, during Kasumi's ending, it is revealed she is staying in the Moonlight Reef suite.
Community content is available under
CC-BY-SA
unless otherwise noted.