Honoka is a high school student, and secretly a martial artist, who made her debut in the 2015 title Dead or Alive 5 Last Round.
TBA
Character
Edit
Appearance
Edit
Owing to her status as a Japanese schoolgirl, her default outfit consists of a school uniform including a blazer, as well as a glove that has a winking skull and crossbones logo on the back of the hand.
She has red eyes and somewhat tanned skin, along with shoulder length salmon pink hair that is tied into a ponytail on the side using a ball with the same winking skull and crossbones motif as her glove, or some variation thereof, save for certain DLC costumes like Last Getaway and New Challengers outfit, which use a flower instead. Honoka currently possesses the largest bust out of all the female characters in the series, a direct contrast to her friend and rival, Marie Rose who possesses the smallest bust, which was even the subject of a pun for their Japanese tag team intro. Her bust size had been hinted at in Famitsu prior to her official announcement, where it mentioned that the new girl had "the biggest." She also has a more curvaceous and voluptuous figure than most of the other younger girls, having very curvy hips, and short but rather shapely legs (in fact, the only one to have an overall more voluptuous figure than Honoka is Mai Shiranui; if one counts guest characters). She is also one of the shortest fighters, in the series (with only NiCO and Marie Rose being shorter than her).
Besides her swimwear, she dresses relatively modestly, which could be due to her innocent nature and grandmother's influence. Some of her outfits also contain a cow motif, such as a cow face print on a t-shirt with "milk" written under it, as well as clothes with a cow marking-print and an attached stuffed cow. In Xtreme 3, she is able to wear her hair fully down, and in Last Round, she wears Hitomi's bob cut in pink on certain collaboration DLC such as her Schoolgirl Strikers and Arc Systems DLC with a white hair band in the former.
Personality
Edit
Having been raised all her life by her gentle and loving grandmother, she is a sweet, easygoing kind of girl, but when she sees a fight, she cannot contain her excitement or the mysterious power surging within her. Honoka has a strange knack for instantly learning any fighting move she sees. She has kept this power hush-hush, but has been itching to test it out in secret.
Her victory quotes indicate she doesn't even know the origin of her powers and seeks to find out about it. In some victory quotes, she also gets apologetic and asks if they can stand up while rushing towards them to offer them a hand, implying that while she does want to test her powers out, she doesn't want to injure or cripple people with them. However, she isn't above lightly teasing people, as evidenced by the Venus Festival when she, when Marie Rose angrily reacted to Honoka talking with the Owner, pointed out that Marie Rose just said she wanted to try out the cute cotton candy.
Although she is very eager for a challenge and a fight to the extent that she can't help herself, even she has her limits, as her losing quote has her whining that her opponent is too strong. She also seems to be quite naive and oblivious. This can be seen when she wins a tag match with Ayane, she'll make the mistake of asking if Ayane's a ninja, much to the latter's disbelief and annoyance. This is further seen in the Japanese version when she makes an accidental pun that angers Marie Rose, due to her not knowing that Marie Rose is jealous of Honoka because of her "assets". On a similar note, when Marie Rose insinuated that her large bust was the most likely reason for Honoka's back pain in All Star Warriors, she was largely oblivious to what Marie Rose meant by that, causing Marie Rose to deflect the question. Her naïve nature was such that, during the first anniversary, one of her initial ideas for planning for the event involved the girls singing "Happy Birthday" to the Owner, until Marie Rose reminded her that the first anniversary was not likely to be related to the Owner's birthday.
Largely because of Honoka's more innocent nature, she also at times gets disturbed when her breasts are commented upon or interacted with, with the most notable example being when Tamaki groped her to gauge her breast size, terrifying her. She also seemed to be embarrassed about the fact that she wore pajamas and shopped for them (mostly because of the ones at the hotel were too small for her), which can be inferred from her interaction with Misaki when she reluctantly admitted such. She also acted very bashful when handing the Owner a Valentine's Day gift. Likewise, she also talked to animals as if they were people, as one of her first actions on New Zack Island was to greet a dolphin as "Mr. Dolphin" and proceeding to bow to it while asking if they'll hang out for a couple of weeks. She also often talks to her stuffed animal Mister Moo as if it is alive, and in Xtreme Venus Vacation has referred to the doll as her "best friend", even sleeping with the doll when she's away from her grandma. In Warriors All Stars, she is seen to be quite upset that she doesn't have Mister Moo along with her. Presumably because of her innocence, Honoka is also sometimes depicted as having a very child-like demeanor (although not to the same extent as Marie Rose), such as requesting after handing someone a Valentine's Day gift that they play with her the next day.
Honoka, by her own admission, is also very good at mimicking other styles, which is also implied to be the reason why she created her Honoka Fu fighting style.
Etymology
Edit
It is unknown what is the official kanji used to write Honoka's name.
Relationships
Edit
Marie Rose
Edit
Although none of the details have been released yet - such as how long they've been friends, how they met, or how they interact with each other - Honoka is friends with Marie Rose, even sharing a special interaction as well as being Tag Battle partners where Honoka requests to Marie Rose for a practice round. In addition, when winning a tag battle with Marie Rose, she does Marie Rose's signature pose with her. In Xtreme Venus Vacation, they seem to get along well enough, even napping together during a sleepover. Interestingly, Honoka's one of the few people whom Marie Rose doesn't object to treating her like a child. During the Sixth Tournament, she is allied with Ayane and Marie Rose for unknown reasons.
It's unknown what their exact connection is, but she is apparently tag partners with Raidou. It might have something to do with Honoka having the ability to copy moves from other fighters by just looking at them doing it, which Raidou is well known for. They also both have that mysterious red mist energy, which might be the source of their move copying power. She may have met him in the past, as she seemingly recognized him in their tag team victory pose, but didn't know from where. Before a tag fight, however, she says that she's "kinda scared" while conveying body language that indicated she was uncomfortable, implying that her fighting alongside Raidou is out of reluctance.
As seen in during Tag Mode, they seem to know or at least are familiar with each other. Although Ayane herself seems unaware that Honoka might have a connection with the kunoichi's evil father, Raidou. Their win scene has Honoka asking if Ayane is "some kind of ninja," with Ayane apparently getting irritated, saying "Are you serious?". Fans have theorized that they may be half-sisters and not know it, judging by Honoka's quote and similar powers to Raidou and them both having red irises. During the Sixth Tournament, she is allied with Ayane and Marie Rose for unknown reasons.
Honoka's grandmother
Edit
Honoka has been raised by her grandmother for most of her life. As such, she loves and cares about her very much, expressing some hesitance about going on a vacation to New Zack Island and leaving her grandmother, and also spending the vacation at times wondering how she's doing. In addition, she also briefly pondered what kind of souvenir she should pick up for her upon her return. In Warrior All Stars, Honoka is sadden and worried that she is away from her grandmother.
It's unclear how and when they met, although Honoka is familiar with Momiji. The two of them can be partners in Dead Or Alive Xtreme 3.
She and Misaki have a fairly friendly relationship with each other, having worked with her to help set up the Venus Festival, and also helping Misaki get through a Cover Girl gravure shooting. However, while she doesn't mind Misaki too much, she did once get very uncomfortable when Misaki behaved oddly toward her in the changing rooms while getting into their designated swimwear (it is heavily implied that Misaki's odd behavior was due to her getting enchanted at seeing Honoka's "assets"). On a related note, she also was unintentionally responsible for supplying Misaki with the idea to have a slumber party, which occurred when, during small talk, Honoka reluctantly admitted that she had been shopping for pajamas to replace the ones provided by the hotel for being "too tight".
Kokoro and Honoka, presumably having met on Zack Island, seem to get along pretty well, since she alongside Misaki worked with Kokoro regarding giving ideas on setting up the Venus Festival.
She apparently had some respect for Nyotengu, viewing her as a good teacher, as she admitted to the Owner after the events of a Pajama Party. Likewise, she alongside Nyotengu and Misaki helped plan the Rivals Festival that the Owner proposed. They also helped out Fiona regarding dancing advice during the Dancing Party of Love that she helmed at the Owner's request.
Tina Armstrong
Edit
It is unclear whether Tina and Honoka have ever actually met each other or interacted, although Honoka was at the very least familiar with her, as she sometimes calls out her name during a tag match. Presumably, she knew of Tina via various pro-wrestling shows she had watched.
Bass Armstrong
Edit
Like with his daughter, it is unclear whether Bass and Honoka have ever actually met each other or interacted, although Honoka was at the very least familiar with him, as she sometimes calls out his name during a tag match. Presumably, she knew of Bass via various pro-wrestling shows she had watched.
It is unclear whether Zack and Honoka have ever actually met each other or interacted, although Honoka was at the very least familiar with him, as she sometimes calls out his name during a tag match. Presumably, she knew of Zack via various pro-wrestling shows she had watched. She presumably met Zack later on when she got a raffle ticket from Zack at the shopping district in Japan to go to the island, although she admitted after arriving at the island that she recognized him from elsewhere, but couldn't put her finger on where exactly.
It is unclear whether Mila and Honoka have ever actually met each other or interacted, although Honoka was at the very least familiar with her, as she sometimes calls out her name during a tag match. Presumably, she knew of Mila via various pro-wrestling shows she had watched.
It is unclear whether Eliot and Honoka have ever actually met each other or interacted, although Honoka was at the very least familiar with him, as she sometimes calls out his name during a tag match.
Honoka alongside Marie Rose first met Tamaki on the island. Although they got along pretty well, she did end up deeply disturbed when Tamaki proceeded to grope her breasts to "gauge" her measurements.
Honoka alongside Nyotengu helped Fiona do the final touches of the dancing party. She also supplied some advice to Fiona about dance methods, albeit in a more flustered manner due to her being experienced with Bon Dances, yet only having second hand knowledge from school about folk dances. In addition, Honoka not only helped cheer Fiona on regarding rock climbing and building her strength for the festival, but also helped Fiona out by doing a demonstration on how to rock climb.
Although Hitomi and Honoka have yet to directly interact with each other, Honoka seems to be genuinely impressed with Hitomi's training regimen, as when Luna mentioned that Hitomi had left earlier for training purposes, Honoka, while making clawing motions, mentioned that Hitomi frequently goes to the countryside to fight bears as part of her training.
Honoka studies her favorite moves and fighting styles, and combines them into a unique style which she calls "Honoka Fu" (ほのか流, Honoka-ryū, lit. "Honoka style"). Since her build is that of an average teenage girl, her moves, while skilled, may not always pack the same punch as the fighter she learned them from. In her Hissatsu-no-Kamae (必殺の構え, lit. "Fighting Position of Annihilation") stance, however, she is imbued with an unbelievable strength and becomes capable of techniques she has never seen from any other fighter.
The following are Honoka's official stats as listed in the games.
| Game | Strike | Throw | Hold | Power | Speed | Moves |
| --- | --- | --- | --- | --- | --- | --- |
| Dead or Alive 5 Last Round | 4/5 | 2/5 | 2/5 | 3/5 | 5/5 | 2/5 |
Appearances
Edit
Dead or Alive seriesEdit
Non-Dead or Alive appearancesEdit
Warriors All-StarsEdit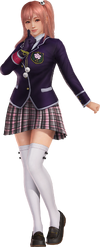 Honoka is a playable character in Koei's hack-and-slash title, Warriors All-Stars, representing the Dead or Alive series alongside Ayane, Kasumi, and Marie Rose.
In an alternate world that relies on a miraculous spring to sustain itself. The King who could control the spring's powers suddenly perished, leaving the world in turmoil. The Queen told her daughter, Tamaki, to summon otherworldly heroes to save their land, but the attempted summoning malfunctioned and left them scattered in different areas. Eventually, other members of this royal family are deemed eligible for the throne, dividing all the heroes into three warring factions.
In the game, Honoka, along with Kasumi and Marie Rose, is a member of Setsuna's force.
Senran Kagura: Peach Beach SplashEdit
Honoka appeared in Senran Kagura: Peach Beach Splash as one of the paid DLC characters released on March 30th, 2017 for the game, and will be one of the three representing Dead or Alive along with Marie Rose and Ayane (with the latter formerly appearing in Senran Kagura: Estival Versus).
Destiny ChildEdit
Honoka, alongside Marie Rose, are due for an appearance in the app game Destiny Child as part of a collaboration between that game and Xtreme Venus Vacation. Unlike Marie Rose, however, Honoka is not known to have a costume based on one of the characters in Destiny Child.[1]
Fighting quotes
Edit
Music themes
Edit
The following are the music themes used for Honoka throughout the series.
Theme
Game appearances
"Our Little Secret"
Dead or Alive 5 Last Round (default theme)
Dead or Alive 5 Ultimate Arcade
Voice actors
Edit
Her current voice actors are Ai Nonaka in the Japanese version and Kira Buckland in the English version. Owing to the character's demeanor, she is voiced by both voice actresses with a youthful, innocent, girlish, and gentle tone.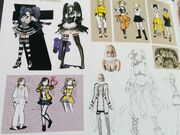 References
Edit
External links
Edit