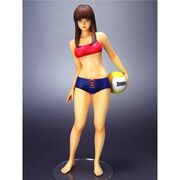 The Hitomi -Reticulum- Figure is a 1/6 scale PVC figurine of Hitomi, as she appears in Dead or Alive Xtreme Beach Volleyball. The figurine was designed by Hayashi Hiroki, and published by Kotobukiya in mid-August, 2006.

Description
[
]
This Hitomi figure is 270mm (10.53 in) in height and is fully painting. She is in a standing position, leaning slightly to her right. She is holding a white, yellow, and orange volleyball under her left arm, pressing it up against her hip. Her right arm is simply pressed up against her other side.
She is wearing Raticulum outfit from Dead or Alive Xtreme Beach Volleyball, which consists of a shortened red croptop with string straps, explosing the underneath of her breasts, and blue shorts with a draw-string fly partially exposing her lower abdomen. A pale blue bear face is printed on the rear, with the words "Your Friend" printed alongside in red.
Gallery
[
]