Hellfire is Genra's final boss stage that first appeared in Dead or Alive 3.
In Dead or Alive 3, this is the only place where the player can fight Genra (as Omega) and isn't selectable at any point of the game. In the story, this is the place where Ayane destroyed Omega in a mercy killing to free him.
In Chapter 3 of Dead or Alive Dimensions, it is both Ayane and her older half-brother Hayate who destroy Omega together.
Description
Edit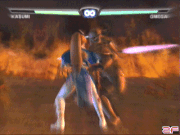 This stage is always set in a ring of fire, said to be created from Omega's magic. In Dead or Alive 3, the fight is in a dynamic view, so the player's back is facing the screen and Omega is facing them. As the player is restricted to running in a straight line, there is little to the stage. Under a smoke-filled sky, the fighters are surrounded by burning trees and fragmented buildings. It isn't selectable at any point of the game and players can only fight here when facing Omega.
In Dead or Alive Dimensions, Hellfire is selectable and is now in a normal view as the players are able to freely move around the ring. The fire surounding the ring act as walls, keeping fights within and inflicting extra damage to those who are thrown against it. Outside the ring, there are burnt trees and a lot of lava flowing from an active volcano.