Geothermal Power Plant is a stage that appeared in Dead or Alive Dimensions. Through Team Ninja's collaboration with Nintendo, this stage is based on the game Metroid: Other M, a Metroid title which was developed by Team Ninja, released in 2010. Perspicacity, the stage is based on a boss battle in Other M against recurring Metroid enemy, Ridley.
Description
[
]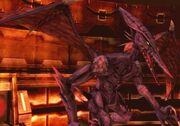 The stage take place within a closed room of the Geothermal Power Plant. Fights take place on a metalic platform, surrounded by red-hot, lava-like substance, although fighters can't fall straight into it. The stage also features a danger zone: Ridley himself. The creature flies around the area, breathing out fireballs towards the fighters, which they must avoid or they lose health.
When a fighter is pushed over the edge of the platform, Ridley captures them in his claws, drags them along a segment of the wall, and breaths fire on them, before throwing them back down onto the platform, dealing a large amount of damage.
Samus Aran, the protagonist of Metroid, will also appear as part of this stage. If the mic on the 3DS picks up sound, Samus will come in her superbomb form, making a big explosion that strikes Ridley. Ridley will no longer launch fireballs at the fighters, but he still will catch them if they fall of the stage. The camera rotates around the stage when Samus enters, causing the two fighters to appear to have switched places after the explosion.
Music themes
[
]
Gallery
[
]
Trivia
[
]
The usage of the Geothermal Power Plant stage in Dead or Alive Dimensions is prohibited in competitive play. This is due to the game having a moderate chance to Desync when Samus appears and uses a power bomb.

It is also one of the only three stages in the series to be tournament banned, the other two being Experimental Playground from Dead or Alive 4, and Dojo from the Dead or Alive 5 games.
[

]