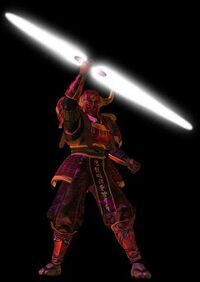 Genra's tokkosho is a weapon that first appeared in Dead or Alive 3. It is a double-pronged item that can be used to channel the wielder's energy into blades; the hilt appears to be made out of metal. As the blades are energy, they can be made into various lengths, as well as be summoned and dispached at the wielder's will.
In Dead or Alive 3, the energy blades are a shade of purple, but they were later changed to white in Dead or Alive: Dimensions. The handle was also shortened in Dimensions.
The tokkosho once belonged to the shinobi Genra, after he had been turned into a super-human weapon by DOATEC. Genra used it in battle against Hayate and his foster daughter Ayane, in which he was killed. Afterwards, the item was passed on to Ayane, as she was his next-of-kin and also subsequent heir to the Haijimon sect. Ayane has yet to be seen using the tokkosho in battle.
A tokkosho (独鈷杵, tokkosho) is a pestle with a single sharp blade at each end. It is actually a type of Vajra, which originally hails from India. The single, dagger-like ends indicate that this is a Wrathful Vajra - made for the singular purpose of striking down evil in the name of good. The tokkosho is a symbolic item in Esoteric Buddhism, representing the indestructible nature of Buddhist law, and the power to defeat evil in its many forms.
As an icon of the power to defeat evil, it seems ironic that this particular tokkosho was held by Genra as (at the time, at least) he became a figure of evil. However, the weapon does fit with its new owner Ayane, as she defeated Genra, and therefore the power that defeated evil.
In the fanmade CG movie series Dead Fantasy, Ayane uses the tokkosho as her primary weapon. She handles the weapon in a way similar to Genra and also Darth Maul from Star Wars, who wielded a similar weapon - a double-sided lightsaber. However in both previews of Dead Fantasy VI, her tokkosho is replaced with Fuma Kodachi twin blades to negate Rikku's special Dressphere, the Machina Maw.
The tokkosho was never officially named in-game during the Dead or Alive series, but its name can be found in Genra's Throwdown Challenge description, which was avaliable as DLC for Dead or Alive: Dimensions.
Community content is available under
CC-BY-SA
unless otherwise noted.