We have to grow stronger...

This article/section is in need of improvement. If you have a good knowledge of the subject, feel free to add your information to the article. Once improvements have been made, this notice may be removed.
Things are shaping up nicely...

This article/section is currently under construction. The information on this page should not be considered as accurate or complete. Please remove this tag if this page hasn't been edited recently.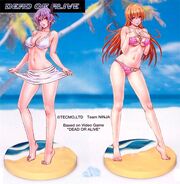 The EX Summer Beach Figurines is a pair of PVC figurines based on Ayane and Kasumi from Dead or Alive Xtreme 2. Published by Sega from 2008 to 2009, the figurines were sculptored by Zenko, based on a illustration by Yamashita Shunya.

Description
[
]
The figurines are fully painted with pale, pastal colors, standing at 180mm (7.02 in) on circular stands with a sand-and-sea design. The girls are both in standing positions, painted with cute faces, with punting lips and doe-shaped eyes.
Ayane is wearing the Daisy swimsuit, consisting on a white bikini top and soft mini-skirt, and she is holding the sides of the skirt as if she is about to curtsy as she glances towards her left. Kasumi is wearing the Crocus bikini with her loose hair flared out behind her. She is pushing her right hip out and resting her hands on the top of her breasts, as she looks towards the left.
Gallery
[
]
Ayane
[
]
Kasumi
[
]