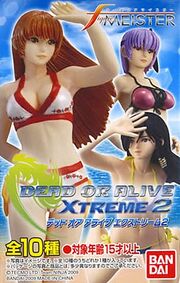 The Dead or Alive Xtreme 2 Trading Figures is a series of small, collectiable ABS and PVC figures based on Ayane, Helena Douglas, Kasumi, Kokoro, and Leifang as they appear in Dead or Alive Xtreme 2. The series was produced on a standard run by Bandai, and were released on February 2009.

Description
[
]
Each of the figurines are 120 mm (4.68 in) in height, fully painted and all have a blue, transparent base, with the Dead or Alive Xtreme 2 title logo raised upon it.
While only five of the girls from Dead or Alive where used in this series, each girl comes in four versions, totaling in twenty diffenrent figurines; the only difference between each version in the color of the swimsuit the girl is wearing. The figurines are:
Ayane in a simple standing position, leaning back slightly with her hands on her hips. She is wearing a bikini with lace hems and lattice-work down the front of her cleavage, which comes in blue with black detailing, hot pink with black detailing, light blue with darker blue detailing, or full lilac.
Helena sitting down, supporting herself on her left arm while reading a small book, holding it in her right hand. Her swimsuit is a slingshot one-piece with a frilled, plunging cleavage, plus a multi-chained necklace and a blue hair bow. The outfit comes in blue with a black necklace, white with a pink necklace, yellow with a silver necklace, and black with a silver necklace.
Kasumi standing with her right arm behind her back, and her left hand is raised to sheal her eyes from the sun, her hair flowing to the left. She is wearing a halterneck, side-tie bikini with small flower prints under the breasts and along the top of the shorts. The bikini comes in blue with white hems, white with red hems, black with yellow hems, and pale pink with darker pink hems.
Kokoro kneeling up from the ground, looking upwards and using her right hand to sheld her eyes from the sun. She is wearing a simple side-tie bikini, which comes in blue with yellow strings and handprints patterns on the cups, black with silver handprints, orange with lilca strings and no handprints, and black bottoms and a gold top with black strings and handprints.
Leifang simply standing with her hands resting against her chest. She is wearing a Bandeau microkini with a collar necklace, which comes in blue with pink strings, pink with white strings, white with red stings, and full pink.
Gallery
[
]