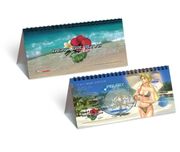 With the release of Dead or Alive Paradise, some pre-orders of the game came with a free-standing, spiral-bound 2010 calendar from selected stores, such as HMV. The calendar features images of the 10 playable female character from Dead or Alive Paradise, as well as basic infomation about the girls, including age, birthdays, height and weight, bust-waist-hip measurments, hobbies, favourite color, and favourite food.

Design
[
]
The each page of the 12-month calendar features a screenshot of New Zack Island in the backround, and with a transparent bubble in the center featuring the dates in the foreground. A render of a Dead or Alive Paradise character and her name is on one side of the bubble, with her stats on the other side. The months without a render - March and September - feature glamour shots of some of the girls instead.
For the most part, the girls feature on the month their birthday falls on; for example, Kasumi features on February, as her birthday is February 23rd. The only exceptions are Kokoro and Tina Armstrong; Kokoro, Tina, and Christie all have birthdays in December, and while Christie is on the December page, Kokoro appears on November, and Tina is on June.
The calendar also has each of the girls' birthdays marked off with hearts. For example, the 5th of August is marked with a heart as it's Ayane's birthday.
Gallery
[
]