'Dead or Alive 6' Release Date Trailer
Play Sound
Dead or Alive 6 (also known as DOA6) is the sixth main versus-fighting installment in the Dead or Alive franchise. It was announced on June 8th 2018 for PlayStation 4, Xbox One, and PC. It was released worldwide on March 1st, 2019. It was also released in the Arcades in Japan on July 18, 2019.[1]
Running on a new engine for the eighth generation of consoles, new features include visible damage on the fighters during the course of the fight. New mechanics introduced are the Fatal Rush and Break Gauge while the sweat effects from Dead or Alive 5 return and are more pronounced.
Plot summary
[
]
"After a sinister incident in a village… Kasumi, a successor of the legendary Mugen Tenshin ninja clan, abandoned her clan and became a "runaway ninja," secretly living in a hermitage in a mountain village.
Meanwhile, Helena Douglas, president of the new DOATEC, is involved in an incident… The sudden of an individual with special powers sent shivers down her spine…
And yet another…. A so-called genius chuckles at a mysterious light emitting an aura…
Behind a quiet time, a sinister plan is set in motion. The passing days are about to be unduly overturned due to an open desire.
As Kasumi writes to her mother, her pen overflows with hesitation. …It's not over yet."
Characters
[
]
See also: List of Dead or Alive 6 characters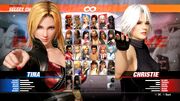 Returning
[
]
New
[
]
Guest
[
]
Gameplay
[
]
The Power Blow and Power Launcher from the previous game have been removed. New is the Break Gauge which sits under the life bar, starting the first round half-full. It can be used in various ways with the

button (or




):
The game retains the 4-point hold system which has been standard since Dead or Alive 2 Ultimate, while including the option for a 3-point hold as in Dead or Alive 2, Dead or Alive 3, and Dead or Alive Dimensions. The system in use will always be displayed under the timer.
The juggle Ground Bounce system is also enhanced for the game, allowing players to bound their opponent on the ground for a finisher, with different inputs depending on character. All characters have an attack that does increased damage if done up close to a prone opponent.
4-Way
3-Way
High Punch
High Kick
Mid Punch
Mid Kick
Low Punch
Low Kick
Development and release
[
]
Team Ninja began full-time development on Dead or Alive 6 in December 2017[1] and publicly revealed it in June 2018.[2] The game is using a new graphics engine, which in its July update was revised with the help from Sega's internal and well known studio, Sega AM2 who also developed its prequel, Dead or Alive 5 .[3] The studio announced they sought to slightly tone down the sexualized portrayal of female characters and focused on being an esports title.[4][5] A single-player campaign, which was described as "cohesive" by director and producer Yohei Shimbori, was developed so that the game can appeal to both casual gamers and the Western audience.[6] Tag team mode of the previous games isn't featured due to the team focusing all its resources on one vs one modes.[7]
Shimbori later denied that the game has been censored due to the new Sony standards against sexual content in PlayStation games and promised it would be at the DOA5 standards, claiming to having been repeatedly misunderstood or mistranslated on the issue.[8][9] He also cited the unfavorable perception of the previous games by "some media outlets" as a reason for the changes and blamed the reduction of female clothing damage on otherwise being unable to distribute the game in the Western stores,[10]stating he has been trying to avoid the repetition of the situation with Dead or Alive Xtreme 3 where they could not sell it in Europe and North America.[11] Nevertheless, an Evo Japan 2019 official stream, featuring gravure idols Yuka Kuramochi and Saki Yoshida, was shut down and apologized for by the Evolution Championship Series president Joey Cuellar and head of business development Mark Julio citing "core values".[12][13][14]
An open beta version was made available between January 12–14 for the PlayStation Plus subscribers.[15] A new demo has been exclusive to PlayStation Plus and Xbox Live Gold members between February 22–24.[16]
Dead or Alive 6 was released for Microsoft Windows, PlayStation 4 and Xbox One on March 1, 2019,[17] delayed two weeks from the original release date of February 15.[18]Limited edition items in Japan include life-size bed sheets of Ayane and Kasumi, a bath poster of Ayane and Kasumi, and bust and buttocks shaped 3D mousepads of Honoka and Marie Rose.[19] The in-game Nyotengu and Phase 4 characters have been included in pre-order and deluxe edition bonuses, along with exclusive costumes.[20]
Similar to Dead or Alive 5, Dead or Alive 6 also has a "Core Fighters" free-to-play version,[21] which was made available two week later on March 15.[22] An arcade version was announced in late 2018[23] and was released on July 18, 2019.[24]
The first downloadable content (DLC) season pass, costing more than the base game, adds two additional character as well as 62 new costumes.[25][26] Rachel also returns as DLC, released in December, 2019.[27]
The game features a Wi-Fi filter.
#ReleaseTheTeamNinjaCut movement campaign
[
]
Twitter users have called for Team Ninja's cut with the hashtag #ReleaseTheTeamNinjaCut for both Dead or Alive 6 and Ninja Gaiden 3.[28]
Gallery
[
]
See also
[
]
Trivia
[
]
It was originally planned to be released on February 15, 2019, until it was delayed two weeks to "further polish its balance, gameplay, and expressivity."[4]
According to the developers, it would not feature the eight characters who were introduced in Dead or Alive Xtreme 3's updates Venus Vacation and Scarlet, as they "weren't fighters"[5]. Later however, in DOAFES2019, developers said that a character from Dead or Alive Xtreme Venus Vacation would appear as a playable fighter, who was ultimately revealed to be Tamaki on February 25th, 2020.

On a related note, the developers also indicated that Momiji and Rachel would not be in the game due to their ties to the Ninja Gaiden franchise. However, both were later added as DLC characters, although they were not given any story mode entries.

If fighters are hit with a Break Blow, this will cause a new mechanic whereby outfits that have the ability to rip will become torn, or shirts or jackets will be removed as if ripped off. Characters who also have tied hairstyles will have their hair untied, and hats and other accessories will be removed as well.
Characters in the game can receive bruises and wounds from battles, however, this can be disabled in the options. Bruises and wounds can also be removed if characters happen to fall in wet areas with bodies of water.
If you move the camera around after a win pose, the defeated character will be in their lose pose. Previously you could hear them panting, but as of the beta, you can only hear them if you use a certain button to change the camera focus to the defeated fighter.
The game has a feature in the options menu which allows for the player to enable 'softness", which is a similar option to the physics motion option from Last Round, except there is only one setting which when enabled, enables the physics for the female characters including added physics for the thighs and posterior of the females as well. This can be freely enabled and disabled by the player at any time.
In one of the latest patches, a slow motion visual effects was added in that allows players to more easily punish attacks that can't be directly held when you use a hold against them.
Dead or Alive 6 is the first game whose menus won't have a camera view of any of the playable stages displayed in the background (The playable fighters will be displayed instead). It is also the first game whose character selection menu will have its own theme since the first game.
The characters that were first introduced exclusively in the Dead or Alive 5 updates, from Ultimate to Last Round, but had no role in that game's story mode play a part in the plot of the 6th game (although in the case of Phase 4, it was more the mass-produced versions rather than the prototype from the DOA5 updates).
This is the second Dead or Alive game where the moves in the Command Lists have no names, the first being Dead or Alive: Dimensions.
Dead or Alive 6 is the first in the series to have a recurring Guest Fighter, namely Mai Shiranui.

On a related note, it is also the first game to have story modes attached to DLC characters. However, it only applies to pre-order and season 1 DLC characters.
External links
[
]
Notes and references
[
]
[

]