DOA Central is a customization mode introduced in Dead or Alive 6.
Wardrobe
[
]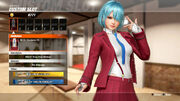 Unlock and purchase new costumes, hairstyles, glasses, and titles with in-game currency.
In previous games it was possible to change hairstyles or add/remove glasses by holding a button at the character select screen (or using the Costume Options menu in Dead or Alive 5 Ultimate Arcade and Dead or Alive 5 Last Round). In this mode, these changes may be applied to a costume and saved to one of ten slots per character.
Database
[
]
View fight records.
Theater
[
]
See main article: Spectator Mode
Watch replays and COM vs. COM battles.
Music
[
]
See main article: Music Mode
New background music may be unlocked and purchased with in-game currency.
Library
[
]
See main article: Library
Purchase and view DOA Encyclopedia and Trivia entries.