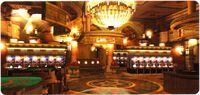 The Casino is a major location from the Dead or Alive Xtreme spin-off series. It is found inside the Hotel of Zack Island or New Zack Island, and can be accessed only during the night-time portion of the day when the player must enter the hotel. Here, patrons can try their hands at poker, blackjack, roulette or try their luck at the slot machines to gamble Zack Dollars.
In Dead or Alive Paradise, Rio from the Super BlackJack series appears as the casion's hostess and table dealer for poker and blackjack.
The casino reappeared in Xtreme Venus Vacation as a gameplay element during the 2nd anniversary, with Blackjack being made available, as well as Roulette being released on January 29. Unlike the other minigames (Volleyball nonwithstanding), the player can access the Casino at any time without needing any items beforehand, although it does have a monthly period of gold chips to win as compensation. Prior to its formal debut, the location itself, or at least the pole-dance area, was used for the final episode of the First Anniversary event (as well as Marie Rose and Misaki's DOAFES 2018 appearances), and one of the add-on characters, Monica, had been "hired" to act as a dealer at the casino.
Dead or Alive Xtreme Beach Volleyball
The chips are uniquely coloured to match the girls' favourite colours: Purple for Ayane, black for Christie, yellow for Leifang, white for Helena, sky blue for Hitomi, dark blue for Tina, pink for Kasumi, red for Lisa, and orange for Kokoro.

For the new characters in Dead or Alive Xtreme 3, they also use their favorite colors: cream for Honoka, dark blue for Marie Rose, crimson for Momiji, and jet black for Nyotengu.

All of the slot symbols and playing cards possess images of the female Dead or Alive cast.
The soundtrack Brazilian Sugar, only plays while the player is in the casino.
Community content is available under
CC-BY-SA
unless otherwise noted.