We have to grow stronger...

This article/section is in need of improvement. If you have a good knowledge of the subject, feel free to add your information to the article. Once improvements have been made, this notice may be removed.
Things are shaping up nicely...

This article/section is currently under construction. The information on this page should not be considered as accurate or complete. Please remove this tag if this page hasn't been edited recently.

Ayane is a kunoichi from Kasumi's clan in the 2006 film, DOA: Dead or Alive.
She is portrayed by actress Natassia Malthe and based on the character Ayane from the Dead or Alive videogame series.
History
[
]
Character
[
]
Appearance
[
]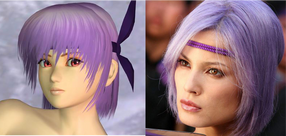 Ayane is portrayed by Natassia Malthe. Ayane's apperance differs from the games. The differences:
Her eyes were brown, rather than red.
Her bangs were styled differently, to the sides rather than covering her forehead.
Her trademark ribbon was switched out for a rope like accessory.
Her race was changed (from Japanese to half Norwegian-Filipino, and she looks much more Norwegian than Filipino)
Her actress was 32 years old, and, obviously, looks much older than Ayane is said to be.
Personality
[
]
Etymology
[
]
Relationships
[
]
Kasumi
[
]
Hayate
[
]
Instead of siblings, Hayate and Ayane are depicted as lovers.
Gallery
[
]