Ayane (Japanese: 綾音) is a kunoichi of the Mugen Tenshin clan and the current master of the clan's Hajinmon sect. She was the winner of the third Dead or Alive Tournament.
She made her debut in the 1998 PlayStation remake of the first Dead or Alive as an unlockable character. Since then, she has become one of the main protagonists of Dead or Alive (particularly for Dead or Alive 3) and has become one of the series' most popular characters. As such, she has made many appearances outside of Dead or Alive, most notably in the Ninja Gaiden series.
Conceived when Ayame was raped by Raidou, Ayane is the half-sister and cousin of both Hayate and Kasumi, as well as the half-sister of Honoka. Although mistreated in her youth, Ayane has worked hard to become one of the most powerful shinobi of her clan.
Childhood
[
]
As a result of being conceived when Ayame, the wife of clan leader Shiden, was raped by Raidou; Shiden's older brother and the progenitor of the Mugen Tenshin's troubles, Ayane has been an outcast for majority of her childhood. Ayane was not raised by her mother but was taken in by Genra, the leader of the clan's Hajinmon sect out of pity and wasn't told who her true family was.
Unaware of the circumstances of her birth, Ayane and Kasumi became best friends while they were children, although neither of them knew that they were half-sisters. When Genra proposed that Ayane assisted him in his duties before the clan's masters, Ayane met Hayate and the two started to form a close bond. From a young age, Ayane was trained to become a shinobi of the shadows, helping the clan from afar.
Later, Ayane learned the truth of her conception when Ayame admitted that she was her biological daughter and the half-sibiling cousin to both Hayate and Kasumi. Driven by her own anger at being cast out, Ayane devoted herself to honing her Hajinmon abilities beyond any other shinobi in the clan to prove that even she, the lowly "cursed child," could become something great. Ayane was consumed with bitterness and jealousy over the fact that Kasumi was treated like a princess while she was treated as an outcast, so their friendship withered even into their adolescence until adulthood.
When Ayane was 16, Raidou returned to the Mugen Tenshin Village to "steal" the technique the Torn Sky Blast. Ayane confronted him but was quickly defeated. After Raidou's rampage, Hayate was left grievously injured, which caused him to fall into a coma, leaving Kasumi to become the new heir for the title of clan leader. Ayane was not happy about Kasumi's new role but as Kasumi didn't know how Hayate was injured because Shiden had kept her in the dark, Ayane told her the truth.
Learning the facts about Hayate's injuries caused Kasumi to leave the clan on a quest for vengeance. Leaving the clan without permission marked her as a nukenin ("missing shinobi") and a clan traitor, so Ayane was ordered to track down and kill Kasumi in order to secure their clan's secrecy.
Ayane managed to stop Kasumi before she even made it over the bridge out of the village but Kasumi was saved from death when Christie and Bayman, two workers of the Dead or Alive Tournament Executive Committee, appeared on a helicopter and took Kasumi away, leaving Ayane fuming.
A few days after Kasumi arrived on the Freedom Survivor for the first Dead or Alive World Combat Championship, Ayane appeared on the ship, too, with an invitation to join the tournament in order to kill Kasumi, as well as to kill Raidou to avenge Hayate. The girls soon discover that Raidou was working for Fame Douglas, the head of DOATEC, but when Ayane tried to attack him, Raidou easily overpowered her. Before the girls could do anything else, Fame stopped them and told them if they wanted to fight Raidou they had to make it to the final round of the tournament.
Although both girls made it to the last few rounds, Ayane was defeated by her older sister, meaning Kasumi had the chance to take down Raidou. After Raidou was killed, Kasumi was kidnapped by DOATEC, prompting Ryu Hayabusa to find her. Although Ayane hated the idea, she didn't argue with Hayabusa and returned to her village for the time being.
One night, some time after the first tournament, Kasumi α, a clone created by DOATEC from Kasumi's DNA, managed to get into the Mugen Tenshin village and broke into Hayate's room, who was still in a coma. Ayane found her and, believing it was the real Kasumi, attacked her, but the clone cast a ninpo spell, showing Ayane a vision of the deadly Bankotsubo (simply known as "Tengu") coming into the human world after the barrier to the world of the tengu was broken. When Ayane awoke, both Alpha and Hayate were missing, so Genra ordered Ayane to find Hayabusa so she could help him save Hayate.
Ayane found Hayabusa while he and his partner Irene Lew were saving Kasumi from DOATEC, after they'd discovered her location. However, after Kasumi learned Hayate was still with DOATEC, she ran off to find him, so Hayabusa sent Ayane after her as a result. Ayane tracked her sister down but was defeated in battle and allowed Kasumi to escape, even though Ayane tried to take her down with a ninpo spell.
One point during the second tournament, Ayane was also confronted by Helena Douglas, who believed that the shinobi was the one who killed her mother, Maria. Although she was not the killer, Ayane neither confirmed nor denied the accusation, choosing to simply taunt the woman instead.
Before returning to Hayabusa, Ayane was brainwashed by Genra, who turned out to be working for DOATEC and was really the one behind the tengu's release. Ayane was set upon Hayabusa and Hayate, and she tried to attack the men alongside Kasumi α. They were both defeated in the end. After the fight, Ayane returned to normal and was happy to find that Hayate was okay, although both Kasumi and Kasumi α had gone.
With Genra now a traitor, the Mugen Tenshin clan planned to take him down and kill him. Although Genra was her foster father, Ayane went along with the clan's goal. However, when Hayate wanted to find Kasumi, she resisted, as she still saw Kasumi as a traitor.
Her outburst in protest earned Ayane a slap from Hayate, and she began to believe her brother didn't love her anymore. Heartbroken, she tried to commit suicide but was stopped when Ayame found her. Her mother tried to convince her that Hayate wouldn't stay mad at her, but Ayane thought that Hayate only cared about Kasumi. After her mother told her that their family bonds were stronger than the shinobi code and asked the girl to save her sister, Ayane went with Hayate to look for Genra and Kasumi.
The two shinobi tracked Kasumi to Kyoto, although when Ayane tried to follow her, Kokoro, a girl who tried to help Kasumi, wouldn't tell Ayane which way Kasumi had gone. Ayane tried to beat the information out of Kokoro, but when Hayate arrived, Kokoro took the opportunity to run away.
During the tournament while on the Freedom Survivor, Ayane met Hitomi, the girl who helped Hayate when he escaped from DOATEC, but she became enraged when Hitomi assumed Ayane was Kasumi and challenged the girl to a fight. It seemed that both girls were equally matched, and Hayate finally told Hitomi that they were shinobi.
Ayane and Hayate also met up with Gen Fu and his student Eliot in China, and they engaged in a friendly tag match under Gen Fu's request, to let Eliot experience other fighting styles. Ayane got annoyed by the boy's negative attitude about himself, giving Eliot a slap and a reprimand but, much to her surprise, Eliot thanked her for the experience.
Ayane managed to come face-to-face with Kasumi again but claimed she was focused on taking down Genra. She didn't try to kill her big sister and said Kasumi could see Hayate but not before she gave her a beating for her troubles. Once she was back on the Freedom Survivor, Ayane argued with Hayate on who should kill Genra. Hayate felt it was his duty as the new clan leader but Ayane, as Genra's foster daughter, felt it was her duty. In the end, after a fight, they agreed to take him down together. Their talk about Genra attracted the attention of Brad Wong, who thought they were talking about a drink with the same name for which he'd been searching. However, when he saw Ayane he took a liking to her and tried coming on to her but was quickly stopped by Hayate.
Some time later, as Hayate and Hayabusa fought against each other to see who has the better shinobi, Ayane and Irene watched them. However, Ayane had to stop the fight when Irene was kidnapped by Christie. Ayane tried to help Hayabusa save Irene but Hayate stopped her, realizing Christie was acting as a decoy for Genra. Enraged that Ayane would turn against him after raising her, Genra opened a portal to Hellfire and attacked Hayate and Ayane in his Omega form. The two were overpowered by Genra but, with the help of Hayabusa, they cast a dual ninpo spell and killed Genra. Back at the village, Ayane preformed a funeral pyre for her foster father, and kept his tokkosho as a memento. After Genra's death, she inherited the title of leader of the Hajinmon sect.
Ayane, alongside the eight other female fighters of the Dead or Alive World Combat Tournament (including Kasumi as well as a newcomer named Lisa Hamilton) were invited by Zack to his newly acquired Zack Island in the tropics for a supposed Dead or Alive Tournament being held there. She and the others later learned it was a hoax, although they later took it in stride, deciding to use the opportunity for a vacation.
The fourth tournament served as an opportunity for vengeance by the Mugen Tenshin clan, who had suffered at the hands of DOATEC's experiments. Ayane once again accompanied Hayate and Hayabusa to embark on DOATEC's destruction. During the battle, Ayane acted to delay Kasumi in stopping Hayate from attacking DOATEC and engaged Christie in combat in order to allow Hayabusa to go after his targets.
Ayane was also primarily responsible for the destruction of the DOATEC Tritower, conjuring a powerful Art of the Raging Mountain God spell that resulted in the destruction of the complex's middle floors, before she and Hayate managed to escape.
In the end Ayane stopped her half-sister from running into the burning tritower after a suicidal Helena. It's unknown if Ayane did it to allow Helena to carry out her actions or to keep Kasumi from getting herself killed.
Shortly after the tournament, Ayane pursued Kasumi to the resurrected New Zack Island (who was herself going there to investigate why Hayate was supposedly on a tropical island), presumably to sort out her complex relationship with her half-sister.
Two years after the fourth tournament, Hayate leads a dealing with DOATEC's new president, Helena Douglas. Infiltrating the Freedom Survivor with her half-brother, Ayane spots Kasumi leaving the ship. Hayate orders her to follow her and discover her true intentions, sensing something was amiss about her. Ayane tracks her sister across the globe for a few days and bumps into Hitomi in South America. Hitomi asks if she's entering the fifth tournament but Ayane told her that she isn't, while chastising her choice of clothing for training. The two women battle it out for a bit and Ayane departs.
A few days later in China, she runs into Eliot and Brad Wong, the latter who starts to hit on her again, much to the kunoichi's annoyance. Just as she was about to slap him for being so ungentlemanly towards her, Eliot flips Brad over and blocks her slap. Ayane tells him that he has improved since their last bout. Eliot happily asks if she's entering the tournament, to which she replies "We'll see" with a smile. She defeats Eliot, telling him he's supposed to watch his opponent better. A few days later in the Arctic, she sees Kasumi standing over a defeated Bayman. She runs over to her but Kasumi teleports away, leaving her to contend with Bayman's interference. Although victorious, she is greatly annoyed at everyone getting in her way.
Sometime later, Ayane and Hayate are brought to the Freedom Survivor by Zack, where they and Hayabusa talk with Helena about Donovan. They learn from her that Donovan is leading a new organization known as MIST and his Alpha plan is at Phase 4: producing super soldiers and selling them to powerful militaries around the world for profit. Realizing that Donovan needs to be stopped, the three ninja infiltrate the oil rig, where his secret lab is located. There, Ayane and Hayate seemingly kill Kasumi, who later turns out to be an Alpha clone who believed herself to be the original. With the help of Bayman, they infiltrate the lab where they encounter Rig. He captures Hayate and Ayane is forced to flee. She returns to Hayabusa, who sends his falcon to summon the real Kasumi from Japan to join the battle. After they rescue Hayate, they defeat Alpha-152 and destroy the lab.
Back on the Freedom Survivor, Ayane gets her kunai back from Kasumi. Then she, Hayate, and Hayabusa watch as Kasumi leaves to find and defeat Donovan.
Ayane had been dispatched to the resurrected island by the Tenshin clan after reports came in that Kasumi may have been there. However, she implied that she may have merely used this as an excuse to go on a vacation.
Ayane aided Hayate in his attempt at investigating MIST, and even accompanied him to the Freedom Survivor. She also learned of Rig's status as a likely henchman of MIST, although they were unable to leave for New York, his location, due to Zack taking the helicoper before Hayate and Ayane could board (implied to be so he could meet a female companion). After finding their way to New York via other means, Ayane learned from Hayate that Rig denied anything about MIST, though they were to keep eyes on him all the same.
Some time afterwards, Ayane caught sight of Honoka dodging a pterosaur in a similar manner to her companion Marie Rose after sparring with her, piquing her suspicions of the girl. She later encountered Nyotengu, who made advances on her while referring to Ayane's earlier claiming herself as the "Miyama's Woman Tengu", revealing she was the real one before sparring with her. After this setback, Ayane eventually encountered Honoka, and after fending off Marie Rose' and noticing Honoka trying to mimic Ayane's style, she then fought Honoka while expressing interest in her abilities. She ultimately won against the girl, causing Marie Rose to demand she leave. However, the encounter cemented her suspicions as to Honoka's origins. She later attempted to take Honoka into custody, pinning her with her kunai, although she was forced again to fend off Marie Rose. She ultimately bested the servant, although the distraction allowed Christie to kidnap Honoka.
Marie Rose attempted to contact Honoka and, although Ayane pointed out that Honoka likely wouldn't be allowed to answer her phone, she received a text citing the MIST lab's location, which the two subsequently work together to infilitrate. There they encountered the head researcher, NiCO, who Ayane held off to allow Marie Rose to go after Honoka, even using one of her kunais to jam the shutters long enough for her to get through. She then bested NiCO in battle, although NiCO then revealed she had actually been expecting Ayane due to suspecting that Ayane and Honoka had similar abilities and were in fact half-sisters. The researcher then subdued Ayane with her shock gloves, although not before Ayane sent two butterfly familiars to her family as SOS transmissions requesting their assistance.
Ayane and Honoka were then forced to revive their father, Raidou. NiCO was set to dispose of them when Kasumi arrived. However, NiCO had anticipated this and brainwashed Ayane into thinking Kasumi had betrayed the clan, thus forcing the half-sisters to fight. Kasumi ultimately prevailed, with Ayane losing consciousness shortly thereafter. While being carried out, Ayane noticed Honoka's unconscious body, and the sight of her being injured was enough to give her a second wind, prompting her to furiously pursue Raidou alongside the rest of her family. She then fought the revived Raidou and, alongside her half-siblings, destroyed him. Afterwards, she collapsed and had to be helped back to the village by Hayate.
Sometime afterwards, she was sent to investigate the Venus Islands for reasons never made clear. While tanning, she encountered the owner of the island, and agreed to act as his partner for setting up the Venus Festival, thinking she'd probably pull it off while investigating the island.
Endings
[
]
Character
[
]
Appearance
[
]
Ayane is of petite height, with a slender and athletic frame and, despite being one of the youngest girls in the Dead or Alive series, she bears one of the largest busts out of all the women. Originally, she was designed with fair skin, a round face, with a small button-nose and wide eyes. As of Dead or Alive 5, her face is now oval-shaped and her eyes have been slightly narrowed but she doesn't appear too different from her former design.
Her appearance is one of the most distinctive out of the fighters, due to her striking light red eyes and straight lavender hair, which is cut to the nape of her neck, with a front fringe, and is tied back with her favorite dark-purple bandana. In the first Dead or Alive, some of her costumes showed her with strawberry-blonde hair and in Dead or Alive 5 Last Round some of her costumes (all of them referencing characters from other franchises) change her hair to blonde, light purple, dark blue or light blue. As of Last Round, she has a total of three main hairstyles: her default one (with and without the bandana), a short ponytail with decorative ribbon that is similar to Kasumi's, and short low pigtails. For her Gust DLC she wears a hairstyle that is basically her normal hair without a bandana but she has a long thin ponytail "extension" in the back as well to keep in line with the character she is cosplaying as. She also received long pale purple twin-tails tied with ninja shuriken hair decorations for her Senran Kagura DLC costume, where she dresses as Yagyu.
Ayane's most iconic costume is a dark purple, strapless dress with a pink butterfly printed on the skirt complete with matching pull-on sleeves, stockings, heeled boots, and a giant red or orange obi bow tied around her hips. Other recurring costumes for Ayane include a purple shozoku, Japanese school uniform, and the training dummy costume, originally from the Sega Saturn version of the first Dead or Alive.
In Dead or Alive 6, Ayane's new default outfit is her outfit from Ninja Gaiden Sigma but in minor alterations. Her corset suit is now black with a purple trim which is connected to her gray tights and black knee-high boots. Her long black ninja gloves are now extended below her shoulders and is no longer fingerless which is covered with light purple fabric.
Personality
[
]
Mostly due to the way she was treated as a child, Ayane possesses a detached, cynical outlook on life and is completely driven by the desire to prove to herself and others that she is better than those that condemned her. As a result, she turned into a determined, strong, and deadly young woman, earning her the nickname "Female Tengu." She also has a tendency to talk down to people – mostly to Kasumi – and act antagonistically. It should be noted that she despises anyone or anything reminding her of the past. Due to her more cynical outlook, she at times can be deeply sarcastic, such as when greeting Leifang during the Tamabata festival with more barbed remarks, as well as telling a defeated opponent they should watch their opponent when fighting. Similarly, she is not used to people giving her friendly interactions, as can be implied by her interactions with Luna, Misaki and Honoka.
However, despite her cruel behavior, she isn't entirely cold and heartless. She does form working relationships with those around her and even loving and emotional relationships, such as her admiration for Hayate and her father-daughter relationship with Genra. However, these relationships are so important and meaningful to her that they seem to be her only emotional support and her reason for living. For example, after losing Genra and Hayate becoming angry with her, she tried to commit suicide. This quick decision to take her life at the thought of losing Hayate's love might be a sign of a more emotionally unstable side to Ayane.
Like most of the other shinobi in the series, she is devoted to what she believes in and follows the code of her clan with all her heart, willing to take on any task for her village, even if it means she could die doing so.
Etymology
[
]
The kanji used to spell Ayane's name (綾音) means "design sound." The term can be used to describe something that is built perfectly for its purpose. This could relate to Ayane as she is seen as a skilled, naturally-born kunoichi.
Relationships
[
]
Kasumi
[
]
Ayane and Kasumi are both half-sisters and cousins; sharing the same biological mother, with Ayane's father also being Kasumi's paternal uncle. Kasumi's mother, Ayame, was raped by Raidou, thus conceiving Ayane. As children they were close friends and, despite the village's negative views of Ayane, they enjoyed playing together, even sharing the same hairstyle. Kasumi when undergoing a ghost festival with Ayane and recalling their past also implied that the latter often hid behind her when they were younger. Due to her age, she never realized why the other villagers treated her so badly. However, after learning the circumstances of her birth, Ayane became intensely bitter and jealous of Kasumi because Ayane was treated like the "demon child" of the village while Kasumi was treated like a princess and had years receiving all of Hayate's affection. Ayane was not aware that Kasumi, like herself, had also been kept in the dark about Ayane's origins and had no idea that her purple-haired playmate was her half-sister. When Kasumi ran away to avenge Hayate, Ayane was finally able to express her now deep hatred toward Kasumi when she was sent to kill her for leaving the village. Subsequently, she also tried to keep Kasumi away from Hayate as much as possible to add to Kasumi's pain of having to be separated from her beloved brother. Ayane's envy towards Kasumi is similar to the hatred Raidou displayed towards Shiden. Their relationship is also similar to the rivalry both Shiden and Raidou had in their youth.
Ayane's hatred, however, was always one-sided. Although Kasumi, out of exasperation, was shown to treat Ayane with a superior tone and even slaps her in anger when Ayane calls her abilities insufficient and even calls her father sick for choosing her, which causes the two of them to tensely stare off for a while, she is shown to still truly care for her half-sister. In Dead or Alive: Dimensions, when Ayane attacks Raidou and is easily knocked down, Kasumi rushes to her aid and helps her up, though Ayane seems hardly affected by this. Despite Ayane only expressing commitment to kill Kasumi and complete her duties, Kasumi never killed her despite always overpowering her, only fighting her when absolutely necessary and being constantly cordial with her younger sister, with the two times she openly acknowledged the gap between their skills being solely to intimidate Ayane, to no avail. In some games, before fighting Ayane, Kasumi may ask, "Why?", questioning the reasons for their battle.
However, over time, her envy and hatred of Kasumi slowly abated since their circumstances have changed. Due to the events of Dead or Alive 3 and Genra's passing, Ayane became the new Hajinmon master of the Mugen Tenshin clan, respected and feared alike, and Kasumi was the nukenin - the outcast of the village. During the fourth tournament, Ayane merely delayed Kasumi enough for Hayate to get a head start on their plan to take down DOATEC, rather than trying to kill her. This fading animosity may have also been why she stopped Kasumi from entering the burning DOATEC building to try and save Helena. In Dead or Alive Xtreme 2, Kasumi and Ayane seem to have started to develop a more friendly relationship with each other.
In Dead or Alive 5, when Ayane and Hayate are about to fight Alpha-152, Ayane stops Kasumi from joining the battle by throwing a kunai at her feet. Kasumi quietly grants Ayane's silent request to fight alongside Hayate. At the end of the ordeal, Kasumi and Ayane are seemingly at peace, as both sisters finally smile at each other instead of killing each other. Kasumi returns Ayane's kunai with a word of thanks before she sets off to track down Donovan.
In Dead or Alive 6, she sent a butterfly-based SOS signal to Kasumi as well as Hayate to rescue her when she was subdued by NiCO. Kasumi finds the unconscious Ayane, who becomes possessed, fighting Kasumi while calling her a "traitor" (it is heavily implied that this was due to NiCO brainwashing Ayane). After she was defeated by Kasumi, Ayane returns to normal and the two alongside Hayate later worked together to defeat a revived Raidou for good.
In Dead or Alive Xtreme 3, however, she still seemed to be pursuing Kasumi per her clan's directives, acting as the main reason why she went to the revived New Zack Island. However, it was heavily implied that she only took the mission as an excuse to go on a vacation or protect her so no one would find her. In addition, they also worked together for a ghost festival, and Ayane had also personally requested Kasumi to aid her in helming the sisters' quarrel festival.
Hayate
[
]
Although Hayate and Ayane didn't know that they were half-siblings for the first few years of their lives, the connection between them is strong, albeit somewhat ambiguous. As children, Hayate was one of the few people who did not treat Ayane as a social pariah. This, combined with the man's skill, resolve, and position in the clan, led Ayane to admire Hayate greatly and to become fiercely loyal to him, a fact made clear by her calling him "Master Hayate". Her loyalty to Hayate is so extreme that she at one point nearly committed suicide when she thought she had failed him and hence had lost his trust.
Ayane's exact feelings for Hayate are a matter of debate. Her respect for him is obvious, and the friendship and bond the two share is apparent. However, whether or not she is romantically in love with her half-brother, as some fans have speculated since the release of Dead or Alive 2, is unknown; nowhere is this stated or even heavily hinted at within the series's mythos, and any supposed evidence of this assertion could just as easily be evidence of an altogether different form of affection.
Regardless of their exact relationship, the two remain at each other's side, looking out for and protecting one another. Once Hayate gained his memory back following the events of Dead or Alive 2, he and Ayane have been on multiple missions together: defeating Genra (with the help of Ryu Hayabusa) in Dead or Alive 3, destroying DOATEC in Dead or Alive 4, fighting MIST and Kasumi Alpha in Dead or Alive 5, and defeating Raidou in Dead or Alive 6.
In tag battle, they are considered main partners since Dead or Alive 3, sharing two tag team animations, calling for each other when tagging, and have opening and winning sequences.
Genra
[
]
Since no one cared for Ayane, Genra took her in as if she was his own daughter. As the master of the Hajinmon style, Genra trained Ayane in that style of Mugen Tenshin ninjutsu. As a result, Genra was both her father figure and ninjutsu master. As such, Genra was also responsible for revealing the true circumstances behind Ayane's birth, and thus was indirectly responsible for Ayane's falling out and later feud with her half-sister Kasumi. After his betrayal of the clan, Ayane felt it was her responsibility and decided to go after Genra, though she did agree to do it with Hayate and Hayabusa's help. He was cremated in a funeral pyre preceded over by Ayane, where she wept for the only person to take her in.
Ayame
[
]
Ayane does not show hatred towards her mother Ayame, although she gave her away and didn't admit she was her mother until years after Ayane's birth. During a scene in Dead or Alive: Dimensions, the two of them share a tender moment in which Ayame comforts her upset daughter, and Ayane calls Ayame "Mother", probably for the first time in her life. Ayame goes on to recall how Ayane and Kasumi would compete to see who would catch the most fish and how the family would have fish for months. She then asks Ayane to help her sister, Kasumi.
Shiden
[
]
Ayane's paternal uncle and step father. Despite Ayane being conceived from Raidou's rape of his wife Ayame, Shiden couldn't bring himself to hurt the child, so he and the clan masters decided to keep that event a secret from her, probably out of pity, as despite Raidou's sins against them, she was still a part of the Mugen Tenshin clan. Although he did nothing to stop others' mistreatment of Ayane due to the nature of her conception, he is one of the few to treat her normally, showing he never personally resented her.
Raidou
[
]
Raidou, Ayane's biological father, raped her biological mother Ayame, resulting in the girl's birth. Ayane shows deep hatred towards Raidou as he was the cause of her "cursed birth" and her life as an outcast and because he gravely injured Hayate. She failed to get revenge on Raidou, as Kasumi was the one who defeated and killed him in the first tournament in vengeance for Hayate, who Raidou had grievously injured. Interestingly, when Raidou calls Ayane "daughter" when they meet before the first tournament began, Ayane replied with a bitter "my father died long ago!", meaning she doesn't accept Raidou as her father and has disowned him, so he is "dead to her."
Two years later, Ayane was forced by NiCO to revive her father Raidou alongside her half-sister Honoka, much to her anger, and after breaking out of NiCO's brainwashing, Ayane immediately raged for Raidou and alongside her siblings managed to destroy her father once and for all, which caused her sufficient relief to let her fall from her injuries.
Ryu Hayabusa
[
]
Hayabusa and Ayane have worked together on many occasions; five if counting the Tengu affair in the second Dead or Alive tournament, the Omega affair, and the Mugen Tenshin Ninja Clan's attack on DOATEC. Since the Dark Dragon Blade incident, the two seemed to have formed a friendly working relationship, with each recognizing the other's skills and capabilities. She regards Hayabusa with respect and has formed a working relationship with the Dragon Ninja.
Irene Lew
[
]
Ayane and Irene have a complicated relationship to say the least. In Dead or Alive: Dimensions, Ayane was shown to get along with Irene on a professional level; even wondering with Hayate what her relationship status was with Hayabusa. However, it is shown that the two have met before in Ninja Gaiden III: Razor's Edge, implying that Ayane may be suspicious of Irene's motives.
Helena Douglas
[
]
They mutually dislike one another. When first meeting each other during the second tournament, she and Helena viciously attacked each other, due to the latter mistaking her for her mother's murderer, which wasn't helped by the fact that Ayane neither confirmed nor denied whether she had any involvement in killing her. The mutual dislike seems to be slowly dying down, even working together on the Venus Islands (which is implied to be because all the girls effectively acted as partners to the owner and thus needed to put aside their differences).
Eliot
[
]
At first, Ayane did not seem fond of Eliot. The ninja was annoyed by the young boy's negative attitude and lack of self confidence, resulting in her giving him a slap and a reprimand. However, much to her surprise, he thanked her for the advice and discipline.
In Dead or Alive 5, Eliot recognizes Ayane at the point Brad teases him and flirts with her. After blocking her slap (which was targeted at Brad) while simultaneously knocking Brad over, Eliot impressed her with his improvement and taking control of the situation. Eliot was hoping to see Ayane in the tournament, but it is uncertain if they've met after that. During this time, Ayane was far calmer and much less biting than their previous encounter. Despite sharing Hayate's lack of regard for the actual DOA tournament, when Elliot asks her if she was participating, she gives a coy 'We'll see...' as her response. She now seems to have some sort of respect for Eliot as a fighter, as he admires her for her great fighting abilities. In Tag Mode Eliot maintains calling for her when she tags, but now with the addition of an opening and winning sequence to the pair.
Hitomi
[
]
Their relationship is complicated. Hitomi possibly holds Ayane at a higher esteem, acknowledging their martial arts skills are equal and that Ayane is Hayate's younger sister. The complication lies more in Ayane's perception, but Ayane is warming up to Hitomi due to Hayate's fondness of her.
While working on the Freedom Survivor as a waitress, she reunites with Ein and meets Ayane. When Hitomi asks her if she's Kasumi, the ninja is angered by Hitomi's mistaking her for a sibling whom she has "bad blood" with and fights Hitomi. After the fight, Ayane is surprised that Hitomi's karate is equal to her ninjitsu. In Dead or Alive 5, Ayane recognizes her in the wild. Hitomi claims to be practicing, but Ayane ponders and then chastises her choice of clothing for training before the two fight.
In Dead or Alive 5 Ultimate, they have gained a complicated unity. They now share an opening and winning sequence in their tag battles based on their meeting during the story. Their interactions clearly point out Ayane's denial in accepting Hitomi as her fighting equal, but nonetheless, they co-operate in battle. Hitomi, in spite of her honesty, seems to appear victim to Ayane's cynical attitude: in their opening sequence, Hitomi asks if she is training for the tournament, to which Ayane remarks "Don't make me laugh", although this does not faze Hitomi in the least. In the winning sequence, Hitomi bows and thanks her for being her tag partner, to which Ayane remarks that she has to improve her skills, which doesn't seem to faze Hitomi either. Ayane's remark is possibly based on Hitomi becoming runner up in the tournament and some denial in accepting her as equal in fighting ability.
In Dead or Alive Xtreme Venus Vacation, Ayane and Hitomi largely got along, with Ayane even asking the latter for advice regarding how to deal with a newcomer.
Kokoro
[
]
Kokoro and Ayane initially got off on the wrong foot when they first met, largely because of Ayane threatening Kokoro due to trying to hunt down her half-sister Kasumi and attempting to kill the latter, ultimately forcing Kokoro to flee. However, later on they seemed to get along fairly well, as Kokoro aided Ayane in helping out Fiona with her beauty spa treatment. In addition, they also worked together regarding a movie shooting that the owner organized, with Ayane also initially thinking when seeing Kokoro crying that the owner did something to upset her. Despite this, however, they did get into a minor argument after an incident during filming where Kokoro apparently removed part of Ayane's dress due to Ayane not being privy to this information (as the two had different scripts).
Honoka
[
]
In DOA6, she was tasked with protecting Honoka due to MIST targeting her, partly because she recognizes Raidou's abilities in her. This also led to some tension between her and Marie Rose. She eventually learns from NiCO, the head researcher of MIST, that Honoka is in fact Ayane's older half-sister via Raidou. After Ayane is rescued by Hayate and Kasumi, she weakly reaches out to an unconscious Honoka before crying out Raidou's name in outrage and going after him, showing that Ayane cares for Honoka deeply.
Although ultimately caring deeply for her half-sister, she nonetheless is somewhat put-off by Honoka's friendly attitude to her, as she admitted during her birthday celebration on the Venus Islands (though she makes clear that in spite of this, she's glad she attended).
Nyotengu
[
]
Nyotengu has a tendency to annoy Ayane, although they are also able to work together. In their unique Tag Battle outro, she irritates Ayane by literally standing in front of her after the latter said no one gets in her way. In Xtreme Venus Vacation, she pranked Ayane and Kasumi (who were both rehearsing for a ghost festival) by acting like a zombified schoolgirl. She later worked with Ayane alongside Misaki for the second New Year's Card photoshoot, with Ayane in particular being annoyed at Nyotengu's rather revealing Daitan outfit. They also entered a minor argument about who looked the best.
In Dead or Alive 6, Ayane and Nyotengu meet formally, and the latter recalls that Ayane had mentioned that she was the "woman tengu of the Miyama." She openly flirts with Ayane, wrapping her arms around her and making a suggestive innuendo, much to the latter's confusion and irritation.
Momiji
[
]
Although it is unknown whether Ayane and Momiji have actually met, Momiji calls Ayane's name during a tag match. It is likely they have met somewhere around Ninja Gaiden game series where they are one of the supporting and playable characters there.
Misaki
[
]
Misaki has some degree of respect for Ayane, often referring to her with honorifics, although Ayane is implied to be annoyed with this sort of behavior. Misaki is also aware of Ayane and Kasumi's status as half-siblings, and has used that in an attempt to tone down their slight animosity toward each other. In addition, she and Ayane seem to disagree somewhat about the "frivolous god" statue on the island. Ayane also acted as a bit of a mentor to Misaki regarding beauty spa treatments, advising her to take good care of her skin to keep it healthy. Largely due to her own past, Ayane also hesitantly accepted Misaki's friendly demeanor to her during the former's birthday party, although she nonetheless was glad she was present. She later worked with Misaki alongside Nyotengu for the second New Year's Card photoshoot, with her also telling a reluctant Misaki that, since she's Japanese, she should wear a Kimono, and wondered why she was hungry, and also being annoyed at Nyotengu's rather revealing Daitan outfit, citing she should have worn a swimsuit alone for the photoshoot. They also entered a minor argument about who looked the best.
Luna
[
]
So far, Ayane is the person that Luna has had the most interaction with. Ayane largely was annoyed with Luna due to her odd quirks, with her also speculating that Luna's an alien due to Luna admitting she came to Venus Island to investigate stars there, and often reluctantly tagged along with Luna for various adventures as well as accepting her request to be a friend. It is heavily implied that she only ended up guiding Luna around because Misaki deemed Ayane the most suited for giving newcomers a tour of the island. The two alongside Kasumi also worked together for the First Anniversary event. Ayane also wondered somewhat bemusedly if Kasumi had a hard time with Luna when learning her half-sister had worked alongside Luna for the experimental body soap treatment. Largely due to her own past, Ayane also hesitantly accepted Luna's friendly demeanor to her during the former's birthday party, although she nonetheless was glad she was present.
Tamaki
[
]
Although Ayane and Tamaki have yet to directly interact, Tamaki was at least familiar with Ayane and her familial relationship to Kasumi, as after the events of the First Anniversary, she reassured Kasumi that, even though Ayane doesn't communicate it much, she does indeed care for her half-sister. Similarly, Ayane referenced Tamaki during the Lonely Rabbit event, citing her as being responsible for Luna's outfit.
Leifang
[
]
Although they haven't had any direct interaction with each other prior to Dead or Alive Xtreme Venus Vacation, they seemed to be somewhat familiar with each other, as when Ayane made some rather sarcastic quips at Leifang's expense, she mentioned that Ayane "never changes."
Fiona
[
]
Fiona looked up to Ayane immensely and even sought her out to act as a mentor for maintaining her beauty for reasons implied to be related to the Venus Festival and impressing the Owner. Ayane largely obliged, even giving several tips on how to do so as well as giving her a massage, although she insisted that Fiona not address her as "master", being uncomfortable with that kind of relationship.
Fiona also worked alongside Ayane to test out a new type of body soap, although Ayane was implied to be slightly annoyed by her presence, comparing her to Luna at one point, with Fiona's admittance that she had watched Ayane sleeping to observe the soap's effects not helping matters. When reconvening with Kasumi later on after the latter similarly worked alongside Luna to test the body soap, she referenced her difficult time with Fiona.
Marie Rose
[
]
During the Sixth Tournament, she initially ended up becoming an enemy of Marie Rose after she attacked Honoka to test her abilities, with further tension occurring when she ambushed them again with the intent of taking Honoka into protection, fighting Marie Rose. Ayane was victorious against Marie Rose. However, after MIST exploited their fighting to make off with Honoka, the two ended up working together to orchestrate a rescue, with Ayane even using one of her Kunais to jam the door long enough for Marie Rose to get through so she could find Honoka while Ayane fought NiCO.
The two later worked together for the night light tower festival on the Venus Islands.
Nagisa
[
]
Although Ayane and Nagisa have yet to directly interact face-to-face, Ayane is at least familiar with her, and especially her relationship to her sister Misaki, which she implied was the main motivator for inviting Kasumi into helming with her the "sister's quarrel" rival festival. Nagisa, alongside Kokoro and Nyotengu, fought Kasumi, Ayane, and Honoka for the purposes of a mock battle and lost.
Kanna
[
]
Ayane during Halloween managed to trick Kanna into thinking that Halloween dealt with a similar premise as Setsubun, which initially caused Kanna to hate the holiday until Ayane revealed the prank as being part of the "trick or treat" custom. During Setsubun, she also deduced Kanna's hatred of the holiday was why she was reluctant to participate, and attempted to assure her that she had nothing to worry about since she wasn't the main participant. Eventually, she engaged in training for Kanna where she and the Owner tossed beans at her and she and Leifang did the same to them, although she overpowered one of her throws and knocked Kanna down at one point by accident.
Sayuri
[
]
Sayuri met Ayane when the latter attempted to discuss with the Owner about setting up the former's welcoming party, due to the Owner being indisposed. They then had an amicable chat before Ayane began feeling tired. However, Ayane got irritated after waking up to find Sayuri had brought Kasumi into the matter.
Koharu
[
]
Ayane, alongside Fiona, met Koharu in order to thank her for opening up the onsen. Ayane remarked it "wasn't bad", and admitted that, although having more experience in the area than Fiona, she didn't generally participate in them. After learning that Koharu was working the same time that the onsens were open, she asked her if there was another means to interact besides that. Ayane reluctantly participated in the pajama party afterwards. She also learned of Koharu's love of classical Japanese literature, and admitted that, Tale of Genji aside, she wasn't familiar with many books in that genre, with Ayane giving more cynical commentary after Koharu explained what that story was about.
Zack
[
]
Ayane is generally annoyed by Zack. She is particularly unimpressed with his womanizing and frivolous nature. As such, she also made clear she was not falling for Zack's claim that a statue of himself on the island was a statue of the island's god. Nonetheless, she was willing to work alongside him were it to accomplish her or Hayate's objectives, such as when she and Hayate intended to use Zack's chopper to get to New York and locate Rig (although Zack left before either of them could board).
Gameplay
[
]
Dead or Alive
[
]
Throughout the Dead or Alive series, Ayane has been amongst the fastest characters in terms of move execution; her lack of the ability to teleport in battle compared to the other three shinobi is countered with her speed. While as fast as Kasumi, Ayane's attacks often do more damage and, most significantly, she has a whole set of moves to use while her back is turned, which heightens her unpredictability and extends her combo potential. She also possesses great range and can play both up close to pester and pressure slower foes or she can play more defensively at longer ranges as many of her attacks possess good enough reach to keep out foes who struggle to move in. She also has a spinning stance that can be used to evade highs and move in while also attacking with launching mids or quick rapid low kicks, and she can also cancel specific moves to feint a reaction from her opponent, but this is also very risky and must be used mindfully, as misuse leaves her wide open for punishment.
Although she is powerful and has relatively simple commands, Ayane can be hard to master due to how her moves require practice and care to execute safely and effectively. Her back-facing stance, although it can make her more unpredictable, can also leave her extremely vulnerable if not used with caution. Many of her more powerful moves have quite long recovery time frames, which makes her unsafe on block and can leave her vulnerable to counterattacks. As such, she is definitely not suited for beginners.
Before using Ayane, it is recommended to practice with Kasumi first, as she is a more balanced character while still retaining the same speedy, combo-based attack style. When she is mastered, however, Ayane's spinning attacks can be a great asset in a duel, making her difficult to predict and be countered by the opponent. She can "juggle" enemies to great effect and her quick speed can make her excellent at intercepting opponents, especially slower ones. She is a deadly character in the right hands.
Dead or Alive 6 further refines her by giving her more attacks with enhanced damage and properties from delaying the timing briefly, and she makes more use of her ninpo abilities with new attacks, including a backturned ninpo stab attack that crumple stuns unwary opponents, as well as a new mid kick launcher to give her more options from her spinning stance.
Stats
[
]
The following are Ayane's official stats as listed in the games.
Game
Strike
Throw
Hold
Power
Speed
Moves
Dead or Alive 5 (5+)
5/5
2/5
2/5
2/5
4/5
5/5
Dead or Alive 5 Ultimate
Dead or Alive 5 Last Round
4/5
3/5
3/5
4/5
4/5
4/5
Dead or Alive Xtreme
[
]
Due to her cold personality, building relationships with Ayane can be difficult and it is noted that giving her lots of presents will not solely guarantee she'll partner with someone. Due to this, she is possibly one of the most difficult girls to befriend. It is best to avoid socializing with her in the mornings, as she is not in the best of moods at that time. If playing as Kasumi, Ayane will not want to be partners with her too easily. Ayane herself may have a hard time getting a partner but, ironically enough, she can easily get Kasumi as her partner.
When playing as Ayane in beach volleyball, she is most effective as a supporting player much like Kasumi, as her technique and jump stats provide excellent coverage in this position. Due to her weak defense, she is best placed mid-field so it will be easier for her to cover more ground. An ideal partner for her would be Hitomi, who while not as fast, is far stronger than Ayane, and can play head-on spikes while Ayane defends. Another good partner would be Kasumi; while neither are the strongest, they are both fast, and good at aiming the ball. In this case, Kasumi would do best to defend, while Ayane spikes.
Stats
[
]
The following are Ayane's official stats as listed in the manuals for both Dead or Alive Xtreme Beach Volleyball and Xtreme 2.
| Power/Strength | Technique | Defense | Jump | Speed |
| --- | --- | --- | --- | --- |
| 2/5 | 5/5 | 2/5 | 5/5 | 2/5 |
Unlocking Ayane
[
]
To unlock Ayane in the PlayStation remake of Dead or Alive, the player must unlock all of the costumes for each character, including Raidou.
Appearances
[
]
Dead or Alive series

[

]
Dead or Alive (PlayStation) (unlockable, 1998)
Dead or Alive++ (playable, 1998)
Dead or Alive 2 games (playable, 1999-2000)
DOA2: Hardcore games (playable, 2000)
Dead or Alive 3 (playable, 2001-02)
Dead or Alive Xtreme Beach Volleyball (playable, 2003)
Dead or Alive 2 Ultimate (playable, 2004-05)
Dead or Alive 4 (playable, 2005-06)
Dead or Alive Xtreme 2 (playable, 2006)
Dead or Alive Paradise (playable, 2010)
Dead or Alive Dimensions (playable, 2011)
Dead or Alive 5 (5+) (playable, 2012-13)
Dead or Alive 5 Ultimate (playable, 2013)
Dead or Alive 5 Ultimate Arcade (playable, 2013)
Dead or Alive 5 Last Round (playable, 2015)
Dead or Alive Xtreme 3 (playable, 2016)
Dead or Alive Xtreme: Venus Vacation (playable, 2017)
Dead or Alive 6 (playable, 2019)
[

]
DOA: Dead or Alive

[

]
In the 2006 feature film DOA: Dead or Alive - loosely based on the video game series - Ayane is portrayed by Natassia Malthe, and as such appears much older than in the video game, not to mention possessing a complete change in ethnicity; Ayane is Japanese, while Malthe is Norwegian–Malaysian.
In the movie, Ayane is not Kasumi and Hayate's half-sister, but is the lover to the latter. She is assigned the task of killing Kasumi for abandoning the village and, as a result, follows her to the Dead or Alive Tournament and tries to kill her without being spotted by others.
Ninja Gaiden series

[

]
Ayane has appeared as an active support to Hayabusa in the reboot series of Ninja Gaiden. Although largely acting as a supporting character in the 2004 title Ninja Gaiden, and its enhanced port, Ninja Gaiden Sigma, giving Hayabusa aid and hints about his quest and missions, Ayane becomes playable in Ninja Gaiden Sigma 2, the enhanced port of the 2008 title Ninja Gaiden II, where she possesses her own chapter in the story. She returns as a playable character in Ninja Gaiden 3: Razor's Edge, the enhanced port of the 2012 title Ninja Gaiden 3, with two chapters in the story.
Her gameplay is defined by fast and nimble movements, wielding the Fuma Kodachi and using the Art of the Raging Mountain God. Her style trades raw attack power for speed and precision.
Non-Dead or Alive/Ninja Gaiden appearances

[

]
Dynasty Warriors: Strikeforce

[

]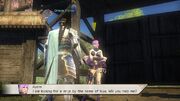 Ayane makes a guest appearance in the PlayStation 3 version of Dynasty Warriors: Strikeforce. She is an NPC that offers three different quests to the player. If the player manages to complete all of the challenges she gives them, they earn the right to wield her Fuma Kodachi in battle. Its attack pattern is similar to the Dual Dagger move-set that appears in the game, but with its own unique special attacks taken straight from Ninja Gaiden Sigma 2.
Dynasty Warriors VS.

[

]
Ayane is a playable character alongside Ryu Hayabusa in this entry for the 3DS.
Warriors Orochi 3
[
]
Ayane appears in the Koei hack-and-slash game Warriors Orochi 3 (Musou Orochi 2 in Japan) as a playable character, representing the Dead or Alive series, though her physical appearance is based off her Ninja Gaiden Sigma 2 interpretation. She is one of five guest characters for the title, along with Ryu Hayabusa, Joan of Arc, Achilles and Nemea.
In-game, Ayane first appears in the Battle of Hasedō which - due to time-space tampering - has parts of Seaside Paradise from Dead or Alive 4 replacing parts of the battlefield. Her theme in this game is a remix of Tehu Tehu, her Dead or Alive 2 theme.
Senran Kagura series

[

]
Ayane has been a recurring guest character in certain Marvelous' Senran Kagura games together with Honoka, Marie Rose and Kasumi. Her special attack involves using outstretched arms and spinning to take down various enemies, and then posing as a white lambourgini falls down and explodes, taking out what remained of her opponents.
Senran Kagura: Estival Versus

[

]
Ayane appeared in Senran Kagura: Estival Versus as one of four paid DLC characters for the game, and will be the one representing Dead or Alive (the other three representing Battle Vixens, who were formerly Japanese exclusive due to its series' rights problem until they were released on March 2017).
Senran Kagura: Peach Beach Splash

[

]
In Senran Kagura: Peach Beach Splash, Ayane appeared as one of the paid DLC characters released in March 2017 for the game alongside Marie Rose and Honoka.
Shinobi Master Senran Kagura: New Link

[

]
Ayane appeared in Shinobi Master Senran Kagura: New Link as a guest character, and is the only one of the DOA guest characters in the game to have predated the Senran Kagura x Dead or Alive crossover, having appeared in an earlier crossover. She represented Dead or Alive Xtreme Venus Vacation in July 2019 and returned in September 2020 to represent Dead or Alive 6.
In Xtreme Venus Vacation, as part of the first collaboration, Ayane alongside Honoka and Kasumi also wore an outfit derived from the Hanzo National Academy uniforms from New Link, with the other girls wearing differing outfits based on the other factions. She is also the main protagonist of two event sequences.
Warriors All-Stars

[

]
Ayane is a playable character in Koei's hack-and-slash title, Warriors All-Stars, representing the Dead or Alive series alongside Honoka, Kasumi, and Marie Rose.
In an alternate world that relies on a miraculous spring to sustain itself. The King who could control the spring's powers suddenly perished, leaving the world in turmoil. The Queen told her daughter, Tamaki, to summon otherworldly heroes to save their land, but the attempted summoning malfunctioned and left them scattered in different areas. Eventually, other members of this royal family are deemed eligible for the throne, dividing all the heroes into three warring factions.
In the game, Ayane, along with Hayabusa (who is representing the Ninja Gaiden series), is a member of Shiki's force. Due to developers' reasons, Ayane is listed as a Ninja Gaiden representative instead as a Dead or Alive representative, meaning she utilizes the movesets based on her Ninja Gaiden incarnation, rather than the movesets based on her Dead or Alive reincarnation. Similarly, interactions between her and Kasumi indicated that this version came from a time where Ayane still had a murderous grudge and intended to kill Kasumi for being a runaway ninja, but was forced to work together with her to get through the war.
Monster Rancher Advance 2
[
]
Ayane appears as a monster in Monster Rancher Advance 2, with a very different look than any other game she's been in. While Kasumi has appeared in multiple entries, Ayane was only limited to this one, where oddly enough Kasumi is not present.
Fatal Frame: Maiden of Black Water

[

]
Ayane makes an appearance as a playable guest character in the Wii U, and later multiplatform, Fatal Frame game Fatal Frame: Maiden of Black Water at the request of Nintendo [2]. Players must complete the games main storyline in order to unlock her bonus chapters that take place during the events of the game outside of the main story.
Ayane is hired to investigate the disappearance of a young woman by the name of Tsumugi, who was last seen headed towards Mt. Hikami, a place known for people to go to with the intent of suicide.
Destiny Child

[

]
Ayane alongside Leifang were added to the app game Destiny Child as part of the second collaboration between that game and Xtreme Venus Vacation, to accompany Kasumi, Honoka and Marie Rose.
Romance of the Three Kingdoms XIV

[

]
Ayane was added to Romance of the Three Kingdoms XIV alongside Marie Rose, Kasumi and Misaki as part of a collaboration with Dead or Alive Xtreme Venus Vacation.
Outfit usages
[
]
Ayane's signature purple butterfly dress is an unlockable costume for Kooh in the golfing game Super Swing Golf: Season 2 for the Wii. The dress appears in the "director's cut" edition of the 2004 survival horror title Fatal Frame II: Crimson Butterfly for the Xbox as well, as an alternative costume for Mayu Amakura, one of the games' two protagonists.
Ayane's Ninja Gaiden design also appears as special costume DLC for PS3 owners of Dynasty Warriors: Online to place on their character.
The outfit and Ayane's hairstyles and accessories also was used in Phantasy Star Online 2 as part of a collaboration between that game and Dead or Alive 5 Last Round.
An oufit based on Ayane was added to the mobile game Rise of Kingdoms as part of a collaboration with Ninja Gaiden III: Razor's Edge, alongside one based on Ryu Hayabusa.
Aside from her appearance in New Link, Ayane's trademark outfit can also be assigned to some of the girl characters in the game.
Merchandise
[
]
Just like Kasumi Ayane has recieved a huge number of figures over the years, starting with an action doll produced by Ninie and 2 figures produced by Epoch, one smaller and less detailed and another bigger and more detailed. She then received multiple smaller and less detailed figures to promote the Xbox Dead or Alive games alongside the other female characters, to then receive multiple more detailed PVC figures, among them 2 figures produced by Kotobukiya (one wearing her Ninja outfit and another wearing a bikini), a figure based on Xtreme 2, and finally 2 figures based on her Ninja Gaiden Sigma 2's appearance and a full on statue with a huge stand produced by Multiverse Studio, based on her appearance on Ninja Gaiden III: Razor's Edge.

In popular culture
[
]
Dead Fantasy

[

]
Ayane appears as a combatant in Monty Oum's CG movie series Dead Fantasy where fighters of the Dead or Alive series battle cast members from the Final Fantasy franchise. She fights with the tokkosho that belonged to Genra and utilizes her Hajinmon style and ninpo arts to battle the Final Fantasy cast. Ayane's main rival in Dead Fantasy is Rikku from Final Fantasy X.
In one of the previews of Dead Fantasy VI, Ayane replaces her tokkosho for fuma kodachi blades during her one-on-one battle with Rikku.
With Oum's death, the future of the series is uncertain.
Three years after Oum's death, an animator named Uiyahan created a remake of Oum's Dead Fantasy series as a tribute to him. Ayane's appearance in the remake is based on her appearance in Dead or Alive 5 and its updates, whilst her main outfit is her primary outfit from Dead or Alive 4.
Fighting quotes
[
]
Music themes
[
]
The following are the music themes used for Ayane throughout the series.
Note that both the Dead or Alive++ and Dimensions themes have no official names.
Theme
Game appearances
"AYA"
Dead or Alive (PlayStation, 1998; Tournament Mode)
Dead or Alive 5 Last Round (optional theme)
"Ayane's theme"
Dead or Alive++
"TehuTehu"
Dead or Alive 2 and DOA2: Hardcore games
Dead or Alive 2 Ultimate
Dead or Alive Online
Dead or Alive 5 Ultimate (optional theme)
Dead or Alive 5 Last Round (optional theme)
"Prismatic Butterfly"
Dead or Alive 3
Dead or Alive 5 Ultimate (optional theme)
Dead or Alive 5 Last Round (optional theme)
"Ayane (or Tehu Tehu) Remix"
Dead or Alive 2 Ultimate (Ray House; as "Ayane Remix")
Dead or Alive 4 (Crash Club; as "Tehu Tehu Remix")
"Shade"
Dead or Alive 4
Dead or Alive 5+
Dead or Alive 5 Ultimate (default theme)
Dead or Alive 5 Ultimate Arcade
Dead or Alive 5 Last Round (default theme)

Dead or Alive 6 (optional theme)

"Ayane's theme"
Dead or Alive Dimensions
"

Tehu Tehu -DW SW MIX-

"
Dead or Alive 5 Last Round (optional theme)
"In the Sunset"
Dead or Alive Xtreme Venus Vacation
Gallery
[
]
Trivia
[
]
Ayane's favorite accessory is the purple bandana which she always wears on her head.

In the Dead or Alive Xtreme sub-series and since Dead or Alive 5 Ultimate for the main series, the bandana can be removed.

Throughout the series, Ayane's hobby in the Japanese versions has been stated as "エステ" (esute), which is an abbreviation of "エステティックサロン " (lit. "aesthetic salon"). In Japan, aesthetic salons are popular establishments where men and women go to receive a variety of non-surgical beauty treatments.

In the English versions of the games, her hobby is often translated as either "aesthetics" or "beauty treatments".

In the Japanese versions of the Xtreme games, Ayane's favorite color is stated as "紫紺"[1] (lit. "purple-dark blue"). In the English versions, the color was translated as "dark purple".
The reason Ayane, Eliot, Kasumi, and Kokoro do not have listed ages in western versions of the Dead or Alive games from the original Dead or Alive to Dead or Alive 4 is because they were under 18 years old. Tecmo decided to give them undefined ages to avoid the risk of a moral backlash from western countries.
Ayane's age is listed as 18 in Dead or Alive++ despite having been listed as 16 in the Playstation version of the first Dead or Alive game.
In the West, it was believed for many years that Ayane was the training dummy in the Sega Saturn version of Dead or Alive, due to her later having the dummy's bodysuit as a recurring costume in later games.

In actuality, the dummy is named "Toreko", as stated in the game's official guide.

Ayane was the first character to use ninpo (ninja magic), even before Hayabusa in Ninja Gaiden. In Dead or Alive 2, she would use ninpo in an alternate story mode cutscene if the player wins against Kasumi and is twice the starting distance from her before the cutscene plays. The part of the cutscene where Ayane performs the technique also plays during the opening segment. The incantation for the blast has still to be revealed as it doesn't show even when the subtitles have been turned on. Some kanji in red appear and disappear behind Ayane as she says the words of the blast. The translation for them is unknown or if they're the words for the attack.
In the original treatment of Dead or Alive 5 by Itagaki, Ayane was to reunite with Kasumi in a snowy field, with Kasumi initially thinking Ayane was coming to try and kill her, and protested that they just stopped DOATEC and that everything was over, but Ayane revealed that she was actually coming to warn Kasumi that DOATEC was still around, and that their village was destroyed by the DOATEC-Asia group. Ayane then collapsed into Kasumi's arms, although not before telling Kasumi that she was going to kill Miyako. However, this story treatment got rejected when Dead or Alive 5 changed hands.[3]
In Nioh, a souls-like fantasy game developed by Team Ninja, there is a Revenant named "oinin_AYANE" in the Iga Mansion.[4]
IGN featured Ayane in their "Videogame Babe of the Day" series in 2006.[5] She was also voted #7 in Fandomania's "Top 10 Fictional Ninjas" list.[6]
Ayane's fear of ghosts in the One Day in the Summer's first part may have been a reference to her role in Fatal Frame: Maiden of Black Water.
Ayane refers to herself as "the Miyama's woman tengu" in Dead or Alive 2, whereas Nyotengu calls herself the female tengu of Miyama. This is used as a source of humorous tension in their interactions.
Ayane is one of only four characters in Dead or Alive Xtreme Venus Vacation who has a pre-determined outfit for her first episode (ie, the player cannot have her wear whatever outfit the player chose for her in the episode), the others being her half-sister Honoka, Patty, and Misaki.
References
[
]
External links
[
]
[

]