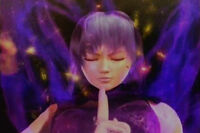 The Art of the Raging Mountain God (忍法・覇神震山, Ninpō: Hajin Shinzan; lit. "Ninja Arts: Supreme God's Mountain Shaker") is a secret Hajin Mon technique used by Ayane, first appearing in Dead or Alive 4 and finally named in Ninja Gaiden Sigma 2.
It is a Ninpo that imbues Ayane's body with the aura of all creation. The aura transforms into tremendous energy and is released all at once when she slams her fist into the ground. The intense shockwave of violet flames blows away all enemies in the area. The chant she utters is a modified Buddhist mantra.
Casters who use this technique before they are ready to wield its power risk their own destruction. However, Ayane already uses this technique like an expert, making her both a prodigy and a force to be reckoned with.
This technique is used by Ayane in the second episode of the fan-made CG movie series Dead Fantasy. Using the technique, she destroys the large tower temple the cast were within, forcing the fight to continue during vertical fall.
Community content is available under
CC-BY-SA
unless otherwise noted.